Written By Lynn Walker Hoverson
Photography By John Reyes
Christina Salazar is dedicated to ART. Inside both her Art Gallery and her store in Port Isabel, Texas, you will find unique paintings produced by her. Also, there are other artists' works by her peers available in her gallery, MIRA. She first opened her store INDIGO in 2015 and expanded next door when she opened the gallery in 2017. Christina displays art and decorative arts that are made in various media by local artists, as well as some international ones.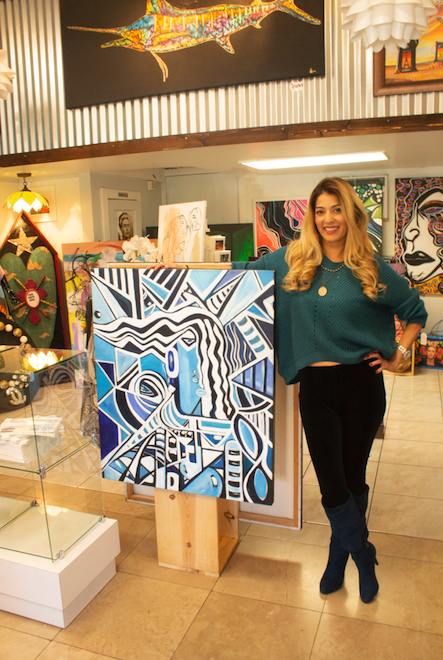 Christina and I had become acquainted a few years ago, around the time she had just opened her first Port Isabel store, INDIGO. So, our interview time was like a comfortable catchup chat with an old friend. The MIRA Gallery, which I had not seen since it opened, is accessed by way of a pass through doorway in the middle of the main west wall inside her beautiful and eclectic boutique, INDIGO. Her gallery, MIRA, is full of very unique and interesting paintings, sculpture, furniture and decorative art pieces that express different themes, including aquatic, tropical, conceptual art and more.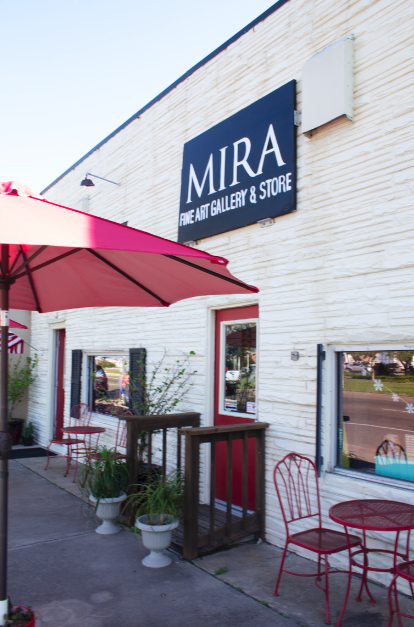 Christina shared some of her personal stories about her successes and struggles to be free to be an artist. She got started on the artistic path very early. When her mother first asked her the big question about what she wanted to be when she grew up, there was only the one possibility in Christina's five year old mind: ARTIST! She said that she remembers beginning to draw at the early age of five. Any physical surface was subject to her crayon marks and water color brushstrokes—even oyster shells which were plentiful in the Port Isabel area, where she has spent most of her life. She drew and painted on "anything"— paper, cardboard, notebook paper and also on her hands.
When she was eight Christina's parents took her on a family trip to Disney World in Florida and that is where, she said, "ART really got my attention!". The cartoon artists intrigued her the most at Disney World. She watched them sketch the figures and produce the animations. Seeing how artwork could be used in real life helped her begin to realize what she might want to do with her own talent. By the time she got in high school she was truly feeling the effects of the "Art Magnet". She spent a great deal of time studying local library books about many famous artists. When she first viewed the art of Salvador Dali, she felt it was an artistic, mental match.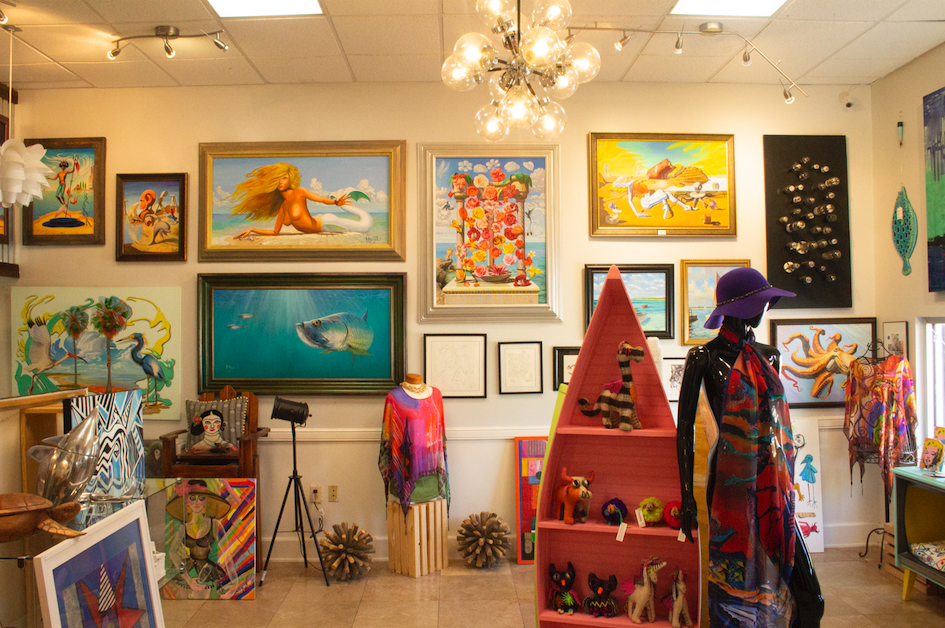 Presently, she has plans to visit The Dali Museum in Spain later this year. During those high school years, Christina used to get kicked out of class for drawing instead of paying attention to her teachers. They told her then, "Art will never get you anywhere!". She is very glad she did not take that message too seriously. She describes her early artworks as her self expression of the inner turmoil she felt as a young person. Drawing helped her process her experiences and give form to her emotions. One of her favorite paintings that she has ever done was from that time period.
While attending the nearby University of Texas in Brownsville, Christina had a part-time job working as a waitress at Blackbeard's Restaurant on South Padre Island, Texas. There she met Loretta Ponder, a woman waitress who is also an artist. After Christina showed Loretta some of her drawings, she was impressed enough to take her under her wing. A dramatic shift from concentrating on drawing to painting began with Ponder's guidance. Christina spent many evenings at Loretta's house getting painting instructions.
After becoming comfortable with paint brushes and how to mix colors, Christina would get so involved with her paintings that she lost all track of time. "Sometimes Loretta would have to tell me how late in the morning it was and that I really should go home. But, I always felt that I wanted to keep on painting… just a little more!". One very stormy night Loretta showed up at Christina's home to check on her. The electric power had gone off due to the bad weather. But that hadn't stopped Christina from painting. Loretta found Christina busy and sitting on the floor with a paint-loaded brush in her hand amidst open tubes of paint and an artwork, in progress on a canvas in the middle of the living room. Even though Christina didn't have any electricity for the houselights, she had her painting workspace lit up with all her candles strategically placed around the room so she could see well enough to continue painting. (This description seems like a paintable image, too.)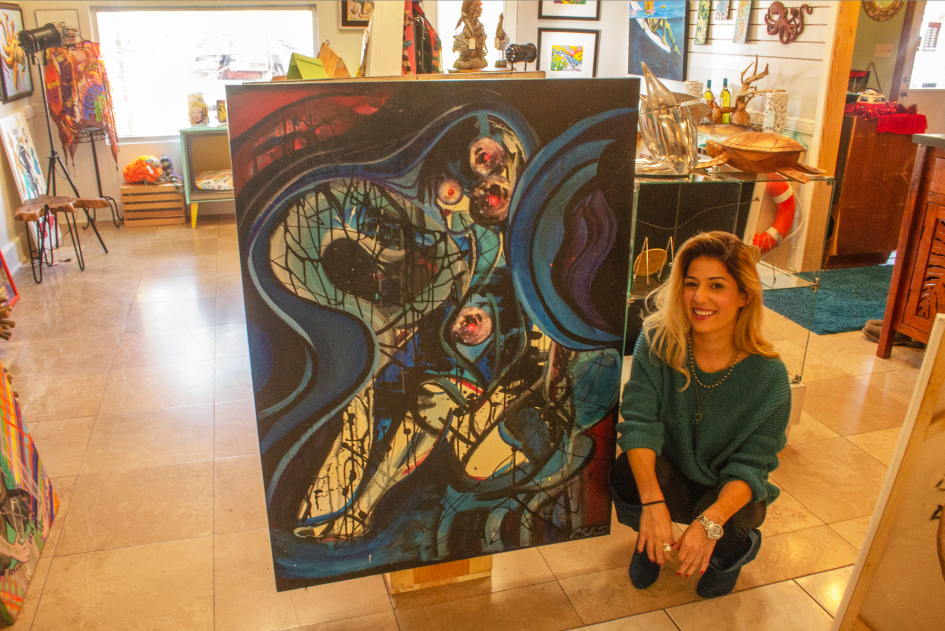 For awhile during her college years, Christina thought she might need a supplemental income source more regular than art; so, she enrolled in a radiology program. Her grades were excellent in that field of study. A few months into the semester, one wise, observant professor in this department expressed a concern to her. He stated that he thought she would not be able to physically lift patients in the professional setting. In response to that advise, she let go of the medical studies plan.
So once again, in her process of becoming an artist, her options were re-defined. A dream she once had helped solidify her dedication to using her artistic talent. In this dream Christina was standing on the side of a street and a man in black clothing riding a big black motorcycle drove past her. He spoke to her directly in this dream and called out as he passed, "Don't stop painting! Your talents will make it one day!". In 2006, the same year she had the motorcyclist dream, Christia entered a juried International Art Show at the Museum of Arts Brownsville. Out of the 2,500 entries in the show, she placed 4th out of the top 400 international contestants. This achievement helped her get admission to the Glassell School of Art which is a part of the Museum of Fine Arts in Houston, Texas.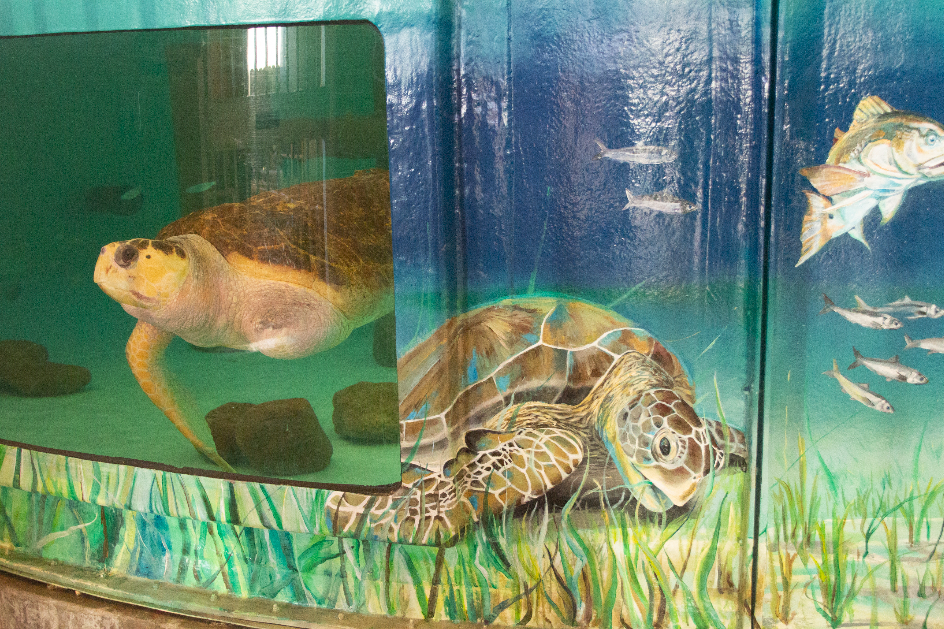 While living in Houston she had the good fortune to land a lucrative, but short, career as a fashion model. Although she enjoyed the work and its financial benefits, Christina eventually realized that when she was modeling, she felt as though she was not being true to herself and her real talent, ART. She returned to her hometown, Port Isabel and her original pursuit of happiness through ART.
Christina said she always favored conceptual and abstract art over the styles of realism, although lately she has been concentrating on improving her skills to produce more realistic imagery. This honing of her talent is presently being featured with her participation, along with two other artists, in a painting project at the new Sea Turtle facility on South Padre Island, Texas. If you are ever on your way to SPI, before you cross the Queen Isabella Causeway, you can find Christina Salazar's store and gallery. Please stop in. You might get to meet the ARTIST herself! Look to the right for her signs:
INDIGO and MIRA.
412 East Queen Isabella Boulevard
Port Isabel, TX
(956) 433-1440