Photography By John Jacob Reyes
Artist Alma Guerrero Barham of Brownsville, Texas describes herself as a Resurrectionist Artist. She coined this term to reflect her personal style of upcycling which respects the past of the objects she works with. Her processes for making her art are the source for her personally-coined terminology. Alma works on her art with an intense labor of love which flows from a deeply felt reverence and fascination with the past. For Alma, The definition of a Resurrectionist Artist is most appropriate. She has a unique and eclectic style of jewelry, clothing and home décor that is noted for reviving artifacts and giving new life to those items which otherwise were destined for obscurity in the dustbin of history.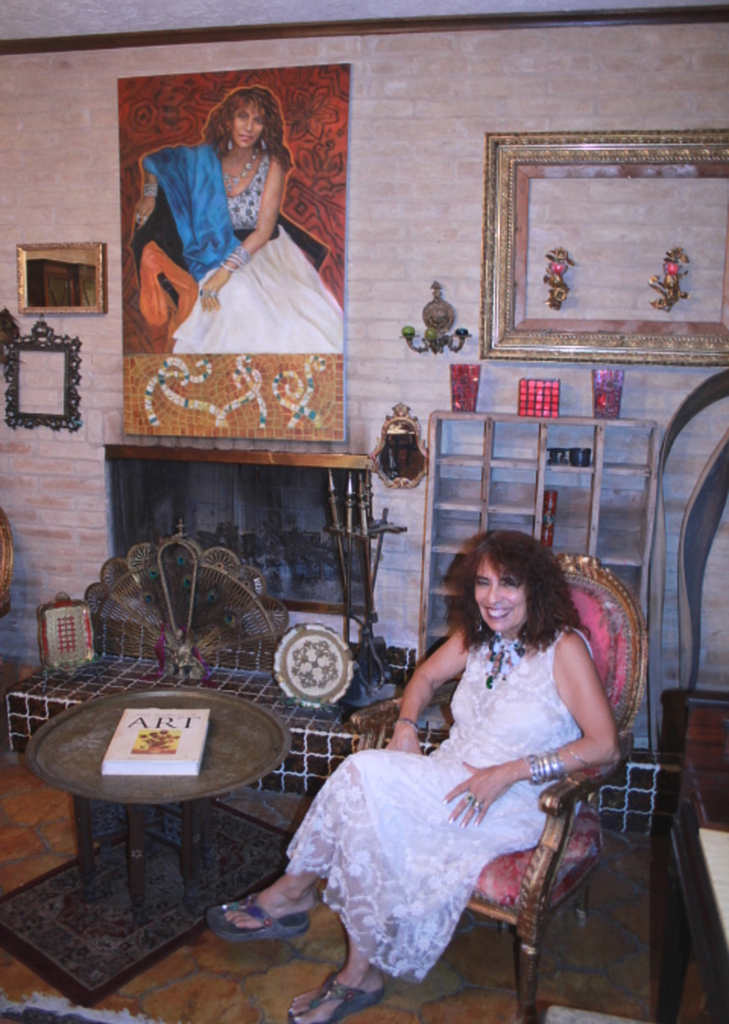 As a small child, Alma discovered she could convert discarded objects into something unique and distinctive. Inspired by her grandfather's gift for carpentry which Alma viewed as transformative, she would retrieve small blocks of wood from her grandfather's work areas. Next, she used paint, glue and fabric on the wood scraps to craft her own little line of mini-furniture. These youthful projects started her on her quest for "RE", eventually inspiring Alma to complete a degree in interior design and architecture from the Art Institute of Houston in 1996. During this stage of her higher education, she acquired knowledge of space planning, color coordination, lighting, textiles, wood-finishing and the psychology of design. She implements all of these in her artwork today. Her degree, in turn, resulted in her employment by large department stores, such as Dillard's, Foley's and Macy's, in the field of visual merchandising.
This also led to her working privately with clients who wanted customized design work in their homes, offices and businesses. These experiences caused her to further conceive of possibly renewing objects previously seen as worthless outcasts, recreating old jewelry and furniture into things of great beauty. With her basic ideas in place, Alma soon found that her favorite haunts in Houston were flea markets and junk shops, where she began to acquire castoffs of imperfect jewelry and furniture pieces which she ingeniously brought back to lives of beauty. She was following her passions of restoration and preservation and her journey has continued. Jewelry with missing clasps, furniture crying out for fresh coats of paint, shellac or new pieces of fabric; the possibilities were endless, and the end results of her "resurrectionist work" were stunning. In many instances, she completely disassembled discarded pieces and brought them back to a functional life by adding various elements to create her hallmark. Alma's blend of unique and bold designs scintillate for her special clients of the 21st century.
As an example, During her five year sojourn in New York, Alma found an old buffet with gargoyle handles, bulbous legs and characteristics that infused the furniture with history. Its sole flaw was that its top was slightly warped. Thus, after making an investment in the piece of only $20.00 and bringing it home to be transformed, Alma immediately set to work with her resurrectionidt process. This particular piece's modifications included old pottery shards and stained glass of every imaginable color that were complemented with antique beads and vintage fabric.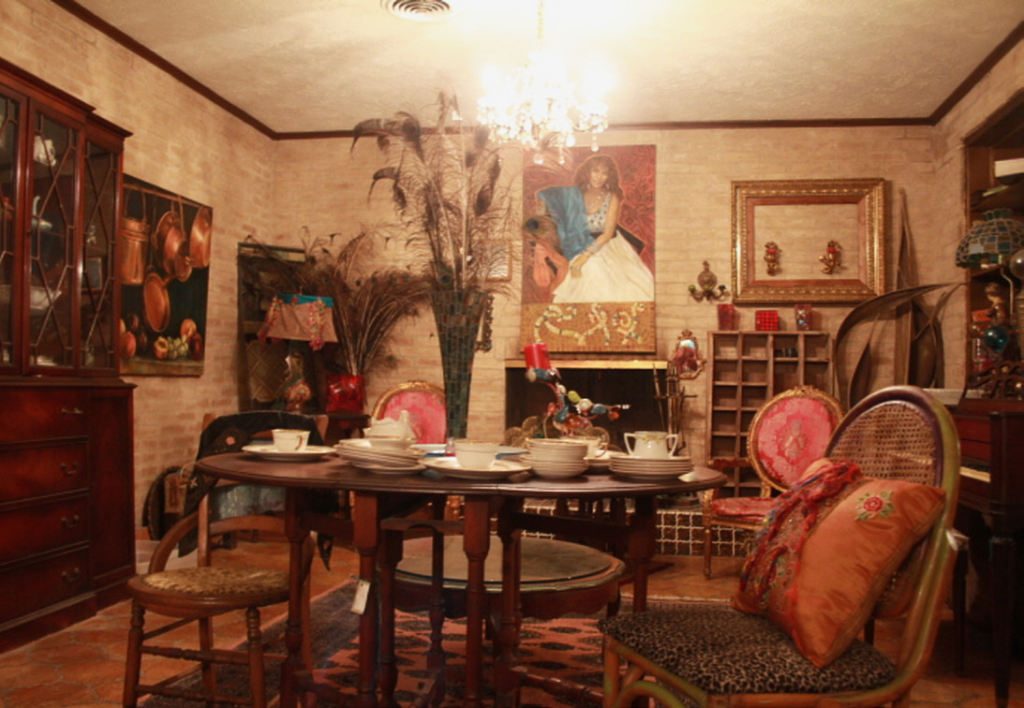 Finishing "artifications" of this work also included touches of mink and variegated splashes of paint. That piece today is the center-piece in the entry-way to an architectural jewel of a home in the famed, old Spanish colonial town of San Miguel de Allende, Guanajuato which is located in central Mexico. While living in San Miguel, Alma locally displayed and sold her artworks from within Galeria Eclectica which was found within the heart of San Miguel's artistic hub at El Instituto.
This was her own gallery that she opened in San Miguel. Her client-base hailed from such far-flung locations as New York, California, Texas and various European locales. Her creations have graced the fashions of opera-goers and the homes of admirers from Wales to Switzerland.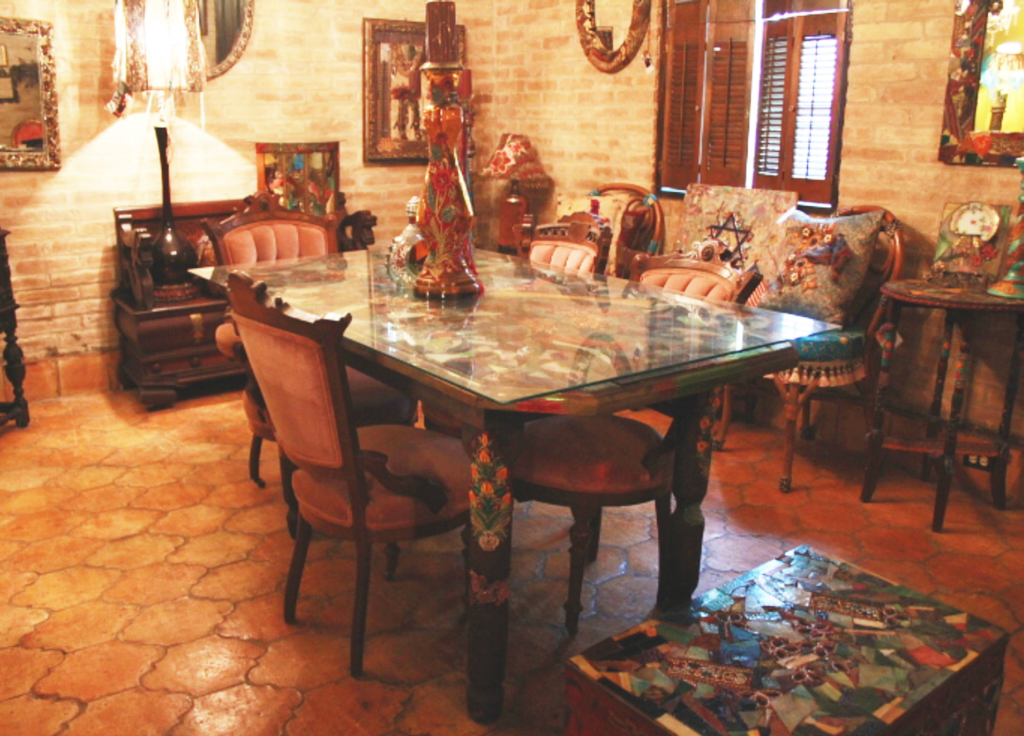 Known as a pioneer in "wearable art," her creations once caught the eye of a London model who fell in love with a one of Alma's works: a dress made of vintage silk plus material taken from a shower curtain. The surface designs depicted the Madonna, a Mexican-style magician and various other components expressive of Mexican culture. Beaded candle holders, coffee tables adorned with painted images and serving trays with stained glass, embellished with colorful brush strokes are typical products of Alma's artistic mind, which sees things that most others overlook.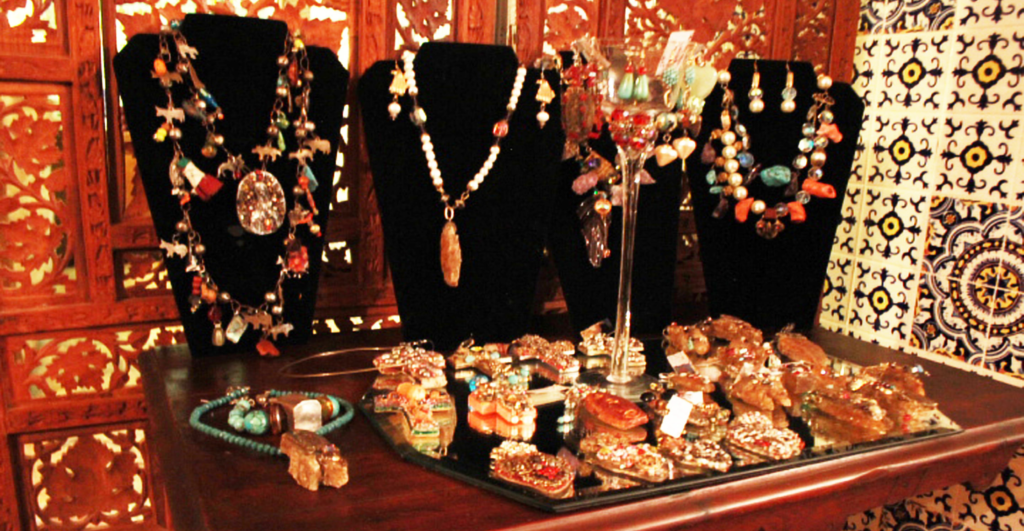 After leaving San Miguel and returning to Texas, Alma has continued to significantly display her jewelry and clothing in boutiques located in Fredericksburg, Texas and Santa Fe, New Mexico. Her unique lampshades, throw pillows and jewelry have attracted recognition from a host of fans seeking a distinctive look of individuality which defies convention, but is at the same time, evocative of the past.
If Alma is to be defined, it would be within the inner and outer walls of her historic hacienda-like residence in Brownsville, Texas. Her and her husband's home is remarkable for its fortress-like brick walls, mosaic tiles, old ceiling beams and also, doors and window facings which date from the middle of the 19th century. In this inimitable atmosphere of art, antiques and oriental carpets, she has established her showroom. Open by appointment only, it is welcoming to those who seek her design and house staging services. Indisputably, once you have visited Alma's home, interacted with her special artistic personality which is surrounded by her one-of-a-kind creations there, you will have obtained an unforgettable experience.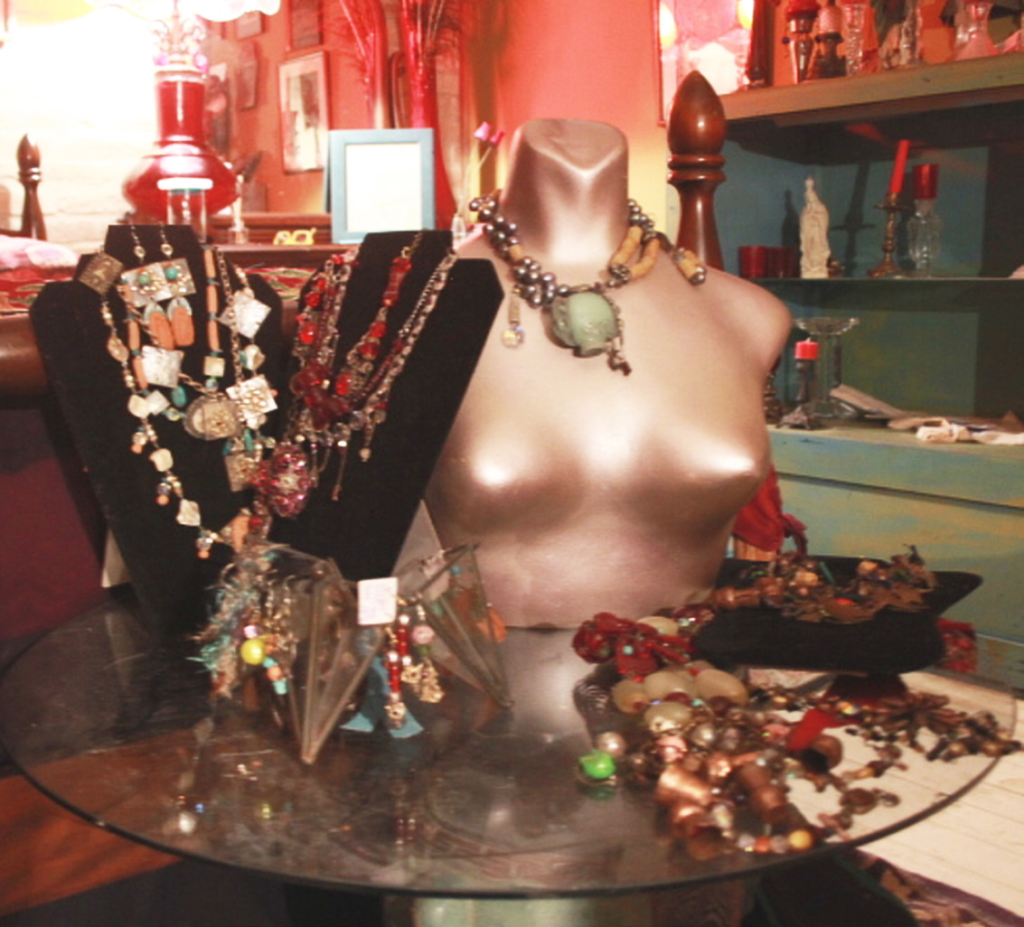 Alma may be contacted at (956) 443-6359, or by email at [email protected] Her work may also be viewed on Instagram at Wowbyalma.