Written By Jeremy Miller
Inground Pools for Small Backyards
Summer is just around the corner, and it's the perfect time to start thinking about installing a small in-ground swimming pool. While many homeowners dream about having their own personal oasis to share with family and friends, those with smaller backyards may feel as though it's an unattainable dream. If this has been a concern of yours, we've got great news: no matter how compact your space is, there's a way for you to enjoy some fun in the sun and water. The flexible designs, shapes, and sizes of a fiberglass or vinyl liner pool make it possible for you to design a gorgeous centerpiece for your property.
The average size inground swimming pool is larger than 600 square feet. A small, or 'boutique' swimming pool is typically considered to be one that is 600 square feet or less. Depending on the shape, size, and design, a small inground swimming pool could still be used for aquatic exercise, as well as purely for recreation. While waterfalls and other water features may be incorporated into a smaller-scale swimming area, diving is not recommended. A small pool will usually be no more than 5 or 6 feet deep. This ensures that homeowners get the most usable space out of their pools.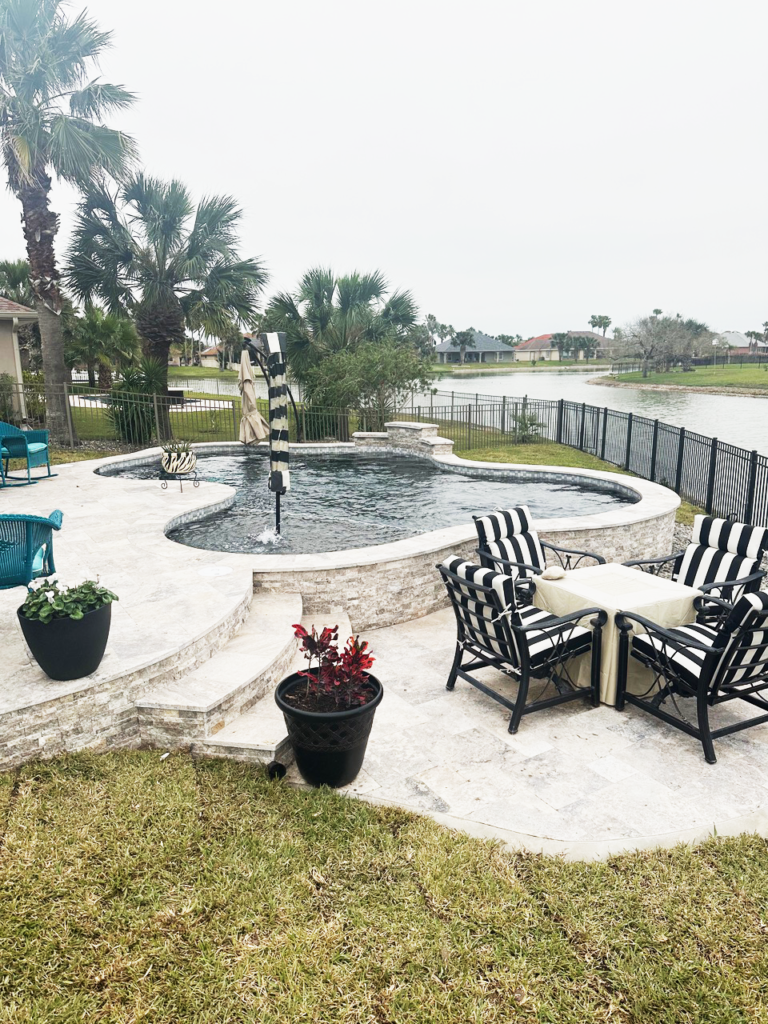 – This little oasis only measures 12 x 24 feet with a Silver 6 x 12 inch travertine coping. Silver Versailles pattern travertine was used for the deck & Npt stonescapes Cameroon black plaster.  SurfSide Pools
Do You Need For A Small Pool?
Many homeowners want to know, "Can you put an inground pool in a small backyard?" The answer is absolutely yes! As you might be surprised to learn, as little as 1,200 square feet of backyard space provides enough room to install a stunning pool. Not only is it possible to install a pool in a small yard, but with today's innovative technology, there are more design options than ever before to choose from.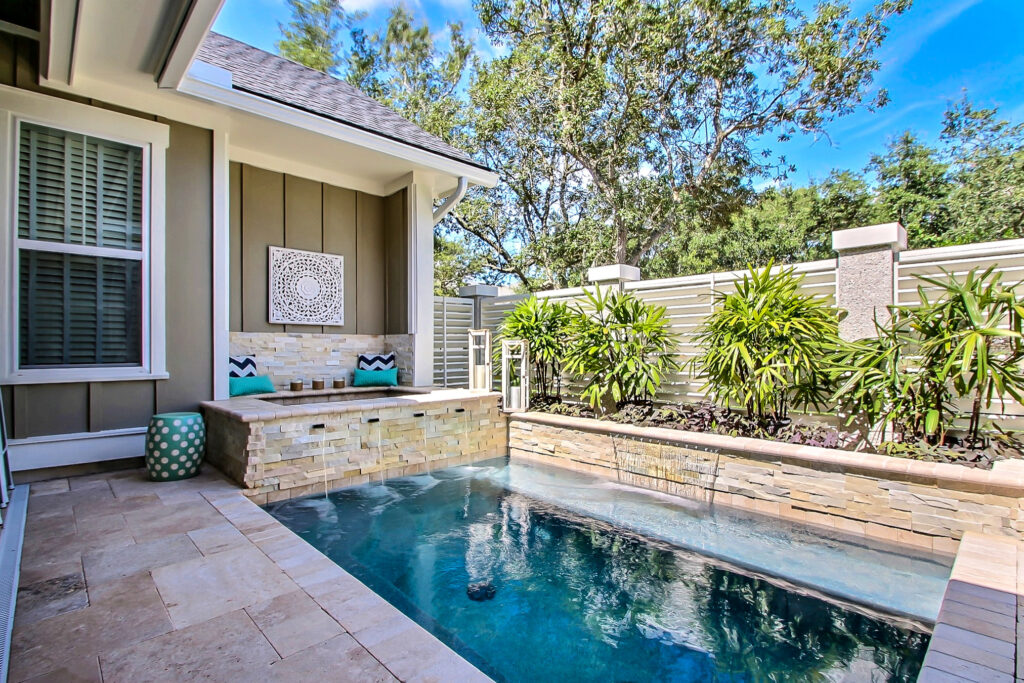 What Shape Is Best For a Small Swimming Pool?
Because every backyard is different, there's no black and white answer to what pool shape is best for a small yard. While some may dislike the fact that curvier kidney-shaped pools lose some water space, others love that this allows for more decking space for lounge chairs and patio furniture. Working with a design specialist to assess your property and demands will enable you to come to the right solution for your home. However, there are some fiberglass pool shapes and designs that easily lend to being used in a small backyard.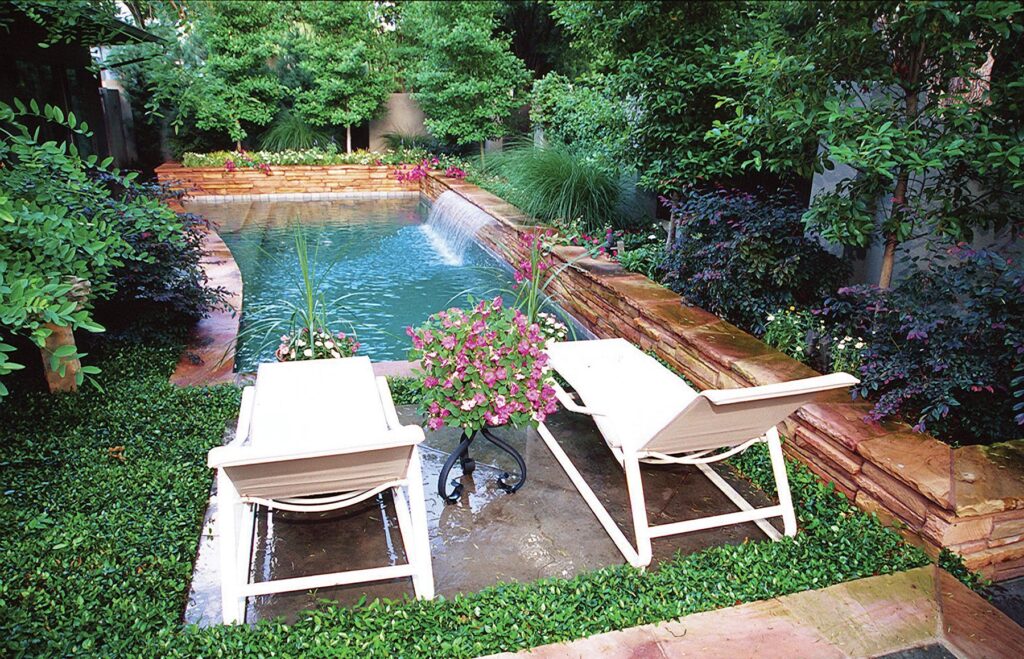 Small Backyard Pool Designs
          Limited space doesn't have to limit your design options. From classic to modern, there's a wide range of looks and styles available for small inground pools. But how should you choose the best style to meet your needs and specifications? For example, what style is best if you want to swim laps?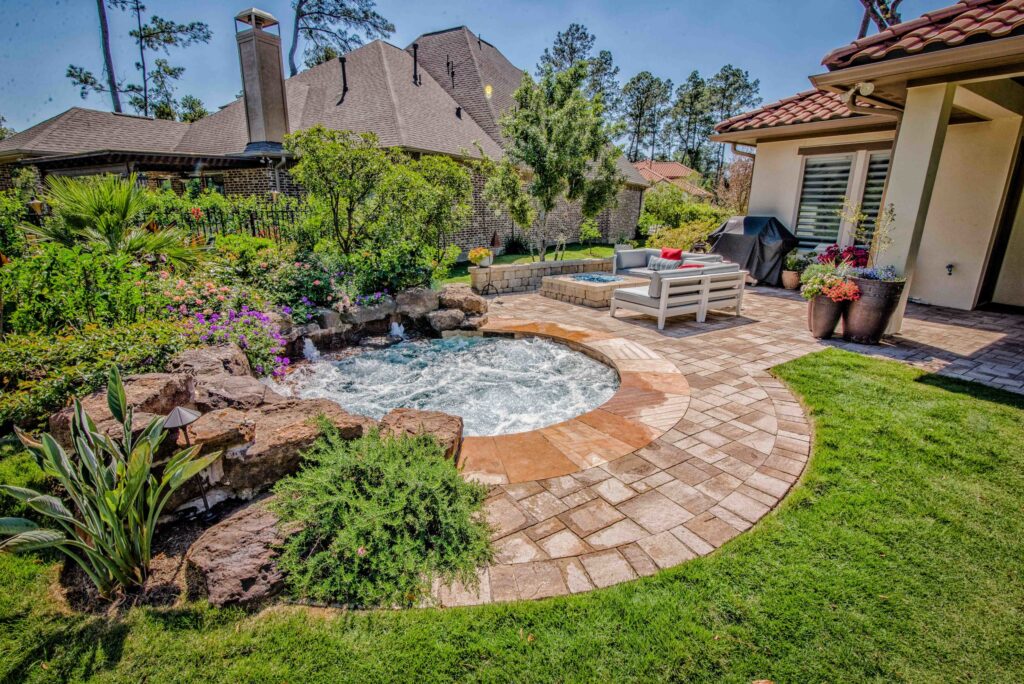 What Considerations Should Be Made For My Pool?
          Before planning the layout for your swimming pool, it's important to discuss your preferences with your local pool builder.  Be sure to evaluate how much time you and your family anticipate spending in and around the pool, and how important it is that you have a grassy area within your yard where the kids are able to run and kick a soccer ball around. These types of things can help your designer to determine how the swimming pool should be laid out, what size restrictions there may be, and how to best optimize your landscape so that it's tailor-fitted to suit your every whim.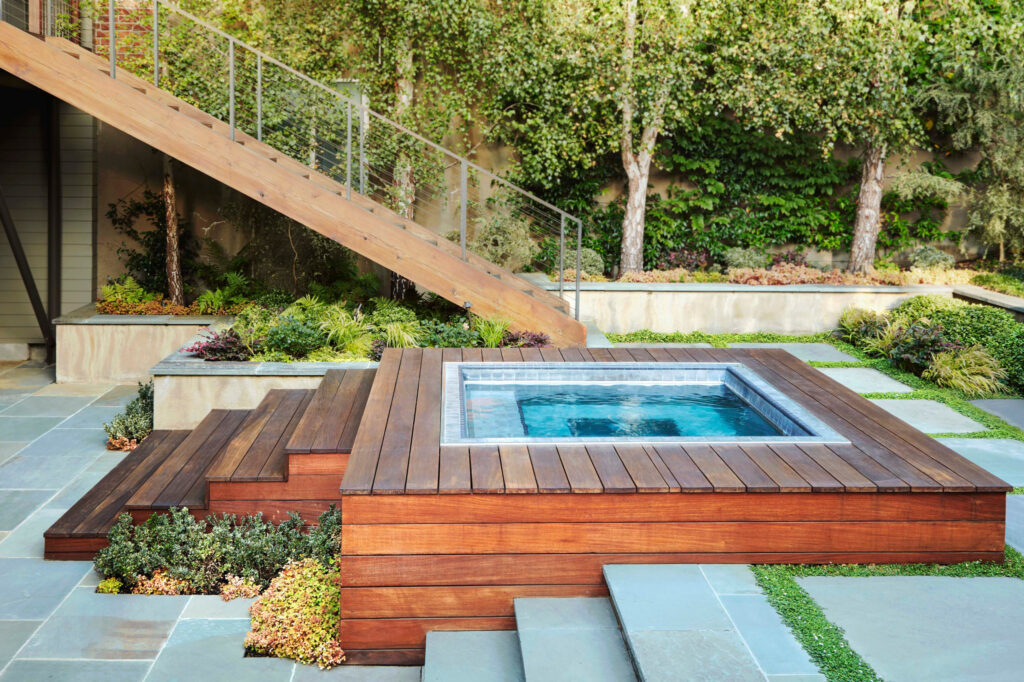 What's The Best Type  Of Pool For A Small Yard?
          Having the ability to play around with different shapes is crucial to maximizing your space for a small swimming pool. A fiberglass pool is a great option because there are so many different shape, size and design combinations available. Even if you've got an oddly shaped backyard, you can make it work! Fiberglass also enables you to get multiple uses out of your pool. In addition to keeping you cool, you can also add waterfalls, streams, and spillways that allow it to double as an attractive water feature, or even build in a tanning ledge to save more space.