Written by Lynn Walker Hoverson
Photographed by Anthony Medina
During the 15 years that Olé Decor magazine has been publishing about construction, real estate, architecture and art, there has never been an article included that featured a museum. Until now, there had not been any new local museums built in the Rio Grande Valley of South Texas. So, in this issue we are especially happy to shine many lights on the recently completed Gelman Stained Glass Museum. It is located in San Juan, Texas, and officially opened its doors to visitors on December 1st, 2021. Most of the information details for this writing are derived from interviews by Olé Decor Staff of the museum's Director, Miriam Cepeda, and the museum's eponymous grantor of the stained glass collection, Dr. Lawrence Gelman.
Art Endures
Beauty inspires. When grand architecture wraps its strong arms around beautiful art, lifts it up and places it into a unique, "Essence-of-Cathedral" styled home, the effect is magnificent; such is the case of the remarkable Gelman Stained Glass Museum.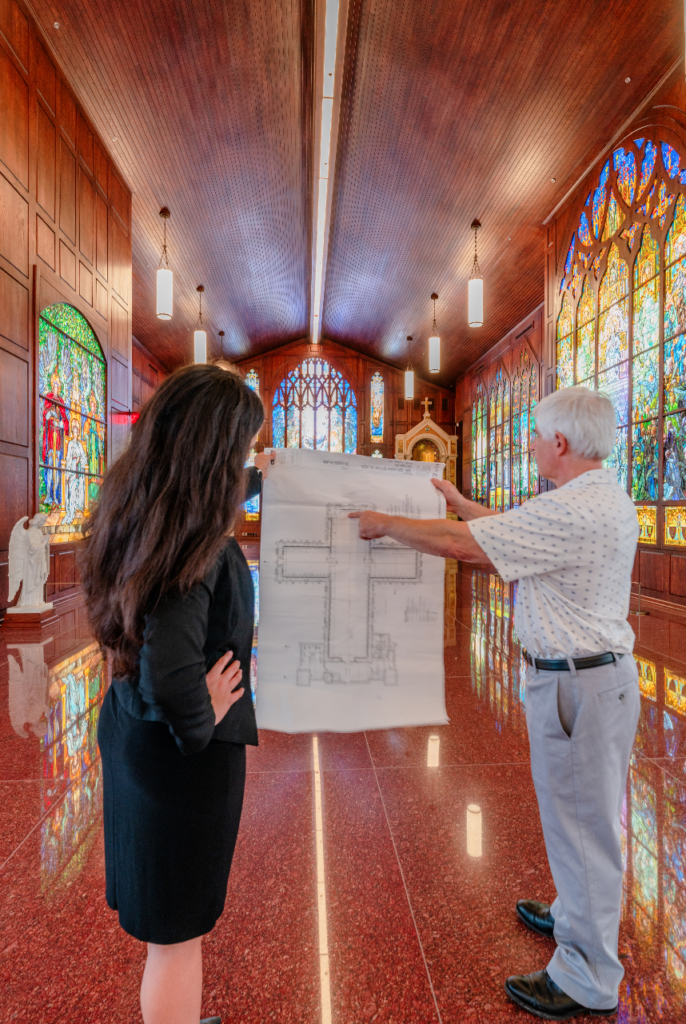 From a Flying Drone's Viewpoint
The museum's Cruciform Architecture appears to be a modernized version of early European cathedrals; but this building is a museum, not a cathedral. However, according to the museum's Director, it IS the only museum in the world which was constructed using the cross shape for its architectural floor plan.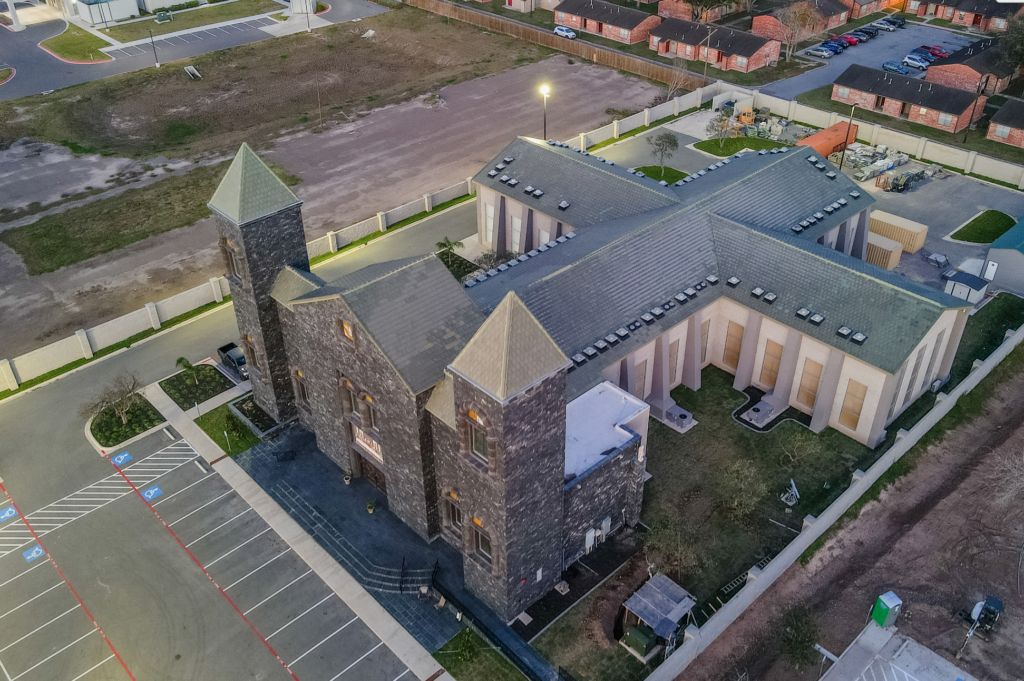 Cathedral or Museum
Marc Chagall (1887 – 1985) was a famous painter and stained glass artist. He has been described as an artist who pushed the boundaries of stained glass with his painterly abstractions. He also did hands-on work on his own stained glass.
Chagall once said, "A cathedral should not be a museum for artworks". Cathedral construction is not your typical architectural practice in today's fast-paced world and the skills required are another lost art. Let's appreciate the choices that must have been required in order to find the right, aesthetically-pleasing balance for the museum's architecture.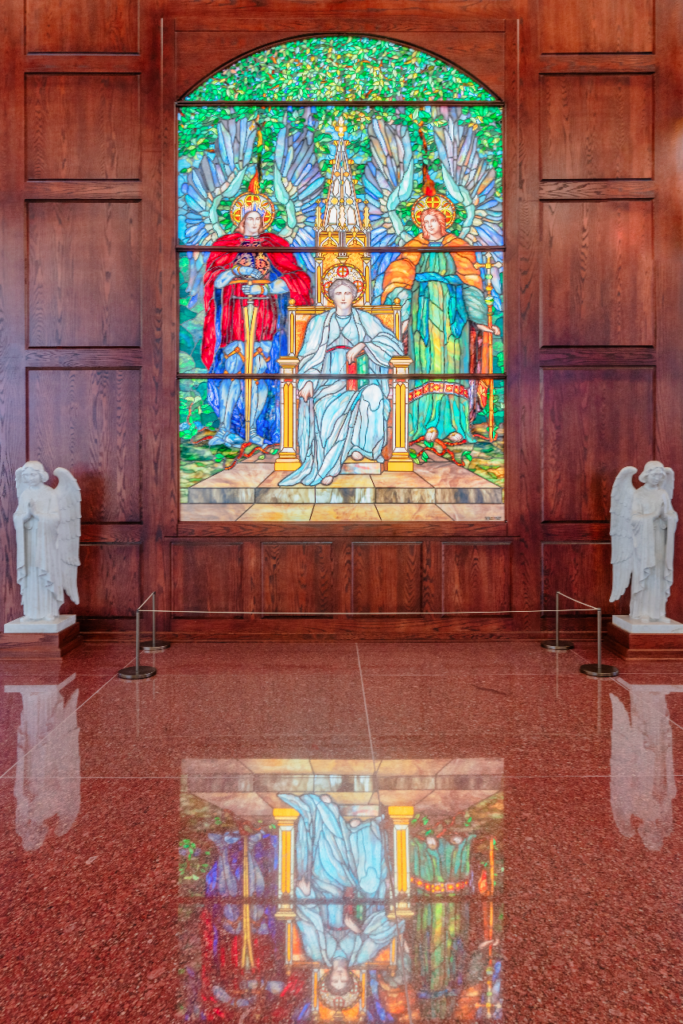 The Director of Gelman Museum of Stained Glass
Within the first few minutes of her interview, the museum's Director emphasized that the Gelman Museum is the most comprehensive and largest stained glass museum in the United States of America. She explained that the stained glass artworks at the museum are all masterpieces by master artists within the stained glass industry. Most of the windows of the collection displayed in the museum were produced during the height of stained glass's development and popularity. (Perhaps you have heard of some of the glass artisans, such as Tiffany Studios.) Even an initial, brief, first glance at the fine details of the faces and incredibly varied and intensely-colored illuminated images brings joyful astonishment about the ultimate level of their artistry and craftsmanship
J. & R. Lamb Studios is one of the manufacturers of some of the museum's stained glass collection. Originally, this company began producing stained glass works in the late 19th century at a location in New York. The J. & R. Lamb company continued thereafter and is still in the stained glass business, but they are now located in New Jersey. Twenty years ago, Dr. Gelman decided to display a handful of some of his windows at the International Museum of Art (IMAS) in McAllen, Texas. At that time, the show was considered IMAS's most popular exhibit. After 2 years on display, the museum decided to go in another direction and closed the exhibit and returned Dr. Gelman's loaned collection. It was then the idea emerged to reinstall this collection, plus another 160 windows for the public to enjoy, but within a special dedicated setting, unlike any other museum.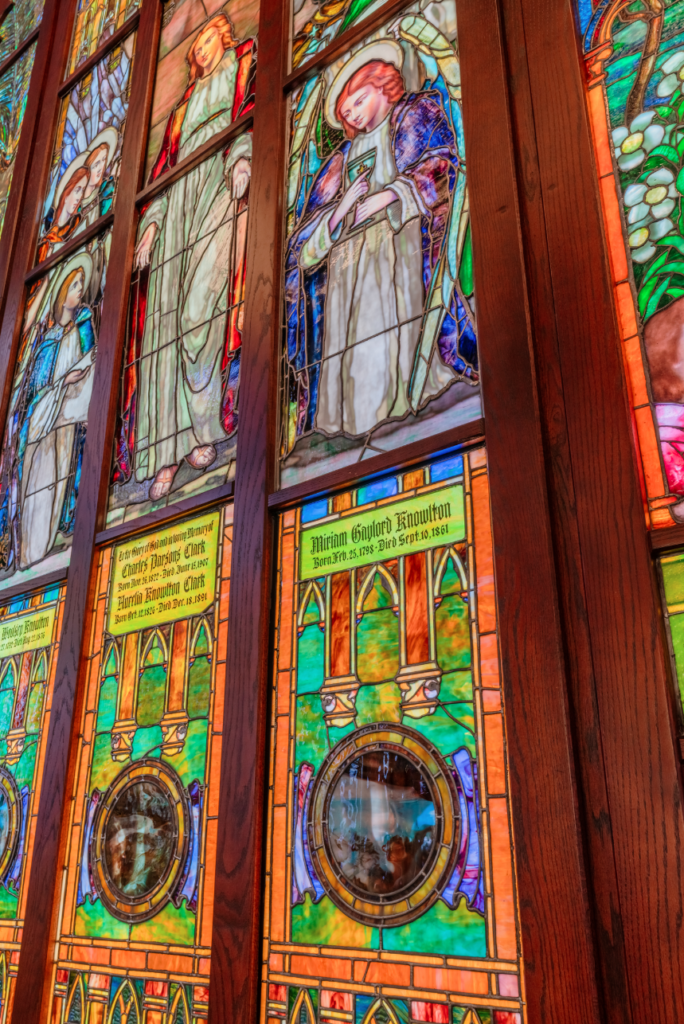 ALL the stained windows on display at the Gelman Museum
Are from churches and cathedrals located in the U.S. —mostly in the northeastern area of the country; however, there are some European pieces of stained glass on display there which are still being researched for their exact provenance. Following the trail of ownership back through time to original purchases and manufacturers' location is time-consuming and arduous, but this ongoing process continues at the museum. In the four years that Miriam Cepeda has been with the museum, she has been a big part of this work. When she first arrived she was instrumental in ensuring the desired installation order of the windows was achieved, based on the artworks' production dates and within a group's narration chronology. At one point attaining that goal necessitated windows being moved and walls being torn down and restructured!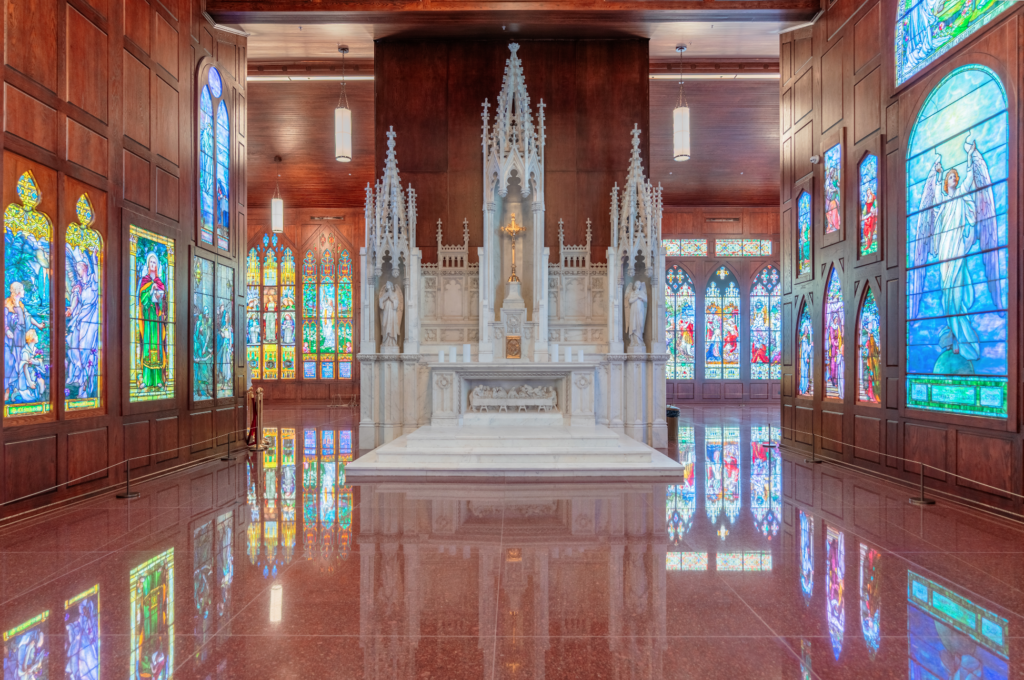 Local Stain Glass artist and owner of Casa Del Vitral Juan Carlos Castillo was instrumental in refurbishing many of the pieces that now comprise the windows of the Museum.
Illumination of the Glass Collection
To quote the museum's director regarding their unique and special lighting method for the stained glass: "It's said that you can't imitate God, but in the case of our stained glass illumination method, we've come pretty close." Rather than a spotlight effect, the Museum's illumination uses full spectrum lighting from effective angles. The museum's construction also required a great deal of perseverance. Working with an eclectic art collector, dedicated to his dream of opening a one-of-a-kind museum to the public, attention to detail was given to every aspect of the construction—possibly frustrating contractors and subcontractors Dr. Gelman's vision—until after completion of this project. Thankfully, Alonzo Cantu from Cantu Construction, a friend of Dr. Gelman's and the General Contractor of this project, would repeatedly tell his team, "Do what Dr. Gelman wants." So, they did— implementing various "change orders" throughout the span of 5 years of construction.
Mr. Cantu has stated, "The museum was well worth the wait."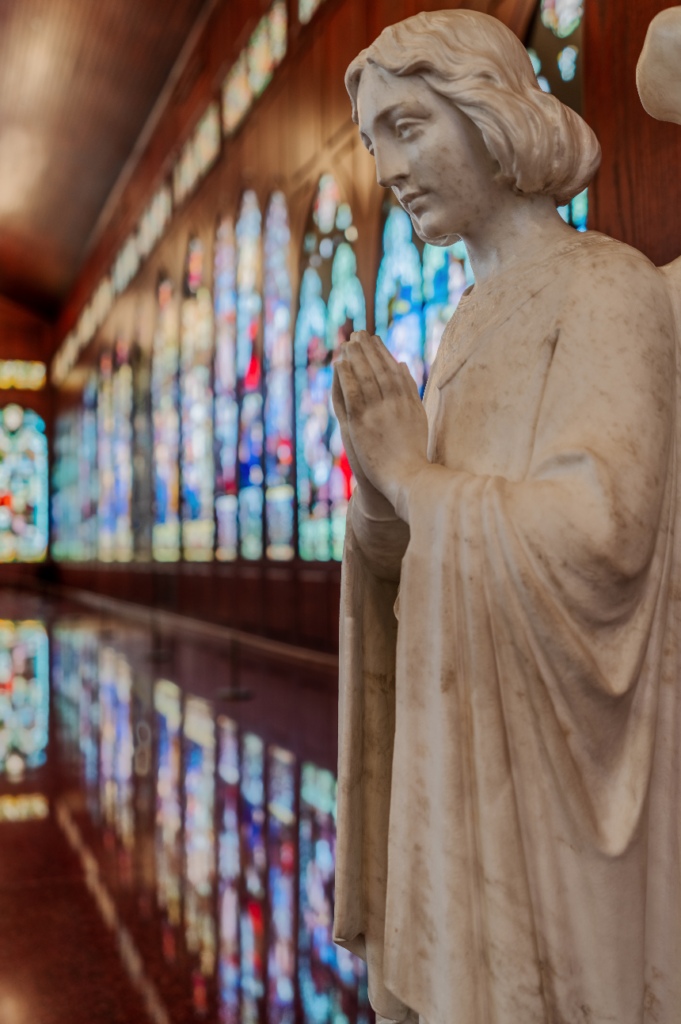 Mr. Cantu brought to our attention this quote from Elisabeth Kübler-Ross: "People are like stained-glass windows. They sparkle and shine when the sun is out, but when the darkness sets in, their true beauty is revealed only if there is a light from within." Five years passed from the time ground was broken for beginning the project to the building's completion. As any visitor can see in the fine carpentry, carving and masonry, a very shiny success it is! At one point in the process, when woodcarving had been the main interior labor for a while, the whole place was filled with a giant cloud of fine sawdust.
Changes of materials' selection were made along the path to this success. Originally, an impractical idea was considered for accenting the windows; however, hand- carved red oak panels were selected instead. Most of the wood was purchased from Texas Wood Supply located in Donna, Texas. The floor materials were sourced from suppliers in San Antonio, Texas. As you can see in the photographs those surfaces are now so highly polished that you can almost see full, double stained glass imagery within the mirrored reflection. Attention to detail has been given to every aspect of the museum, inside and out. There were, of course, some additional problems, as is the way with construction—not to mention, the recent winter storm, hurricanes and COVID-19—but those events resulted in more of the interesting kind of tales that Dr. Gelman could probably use to write a book. (I imagine he could title it: My Stained Glass Safari. If he ever chose to do so, I would certainly buy a copy for myself.)
Dr. Lawrence Gelman
Dr. Gelman proved to us what a good story teller he is during his interview, as he generously and humbly shared some of the stained glass-related happenings he has lived through— from the time he first had stained glass windows offered to him as part of the first house he and his wife built and purchased in 1987 in the Rio Grande Valley — to one of the most recent providential discoveries of an excellent glass artisan who turned out to be a local. Prior to finding Mr. Juan Carlos Castillo, Dr. Gelman had searched many other areas of the U.S. for someone skilled in the almost-lost art of stained glass restoration.
Mr. Castillo has worked on restorations of some of Dr. Gelman's other windows that are assigned to the location above the museum entry doors. Those sections have varied thicknesses in the glass and require glass pieces being produced in the glass kiln at Mr. Castillo's fully equipped glass studio. "We are ALWAYS working on stained glass!", said Dr. Gelman. It is fortunate that Dr. Gelman found this artisan and he has now been relying on his skills to continue with what became something akin to an invisible thread, making a network in Dr. Gelman's life.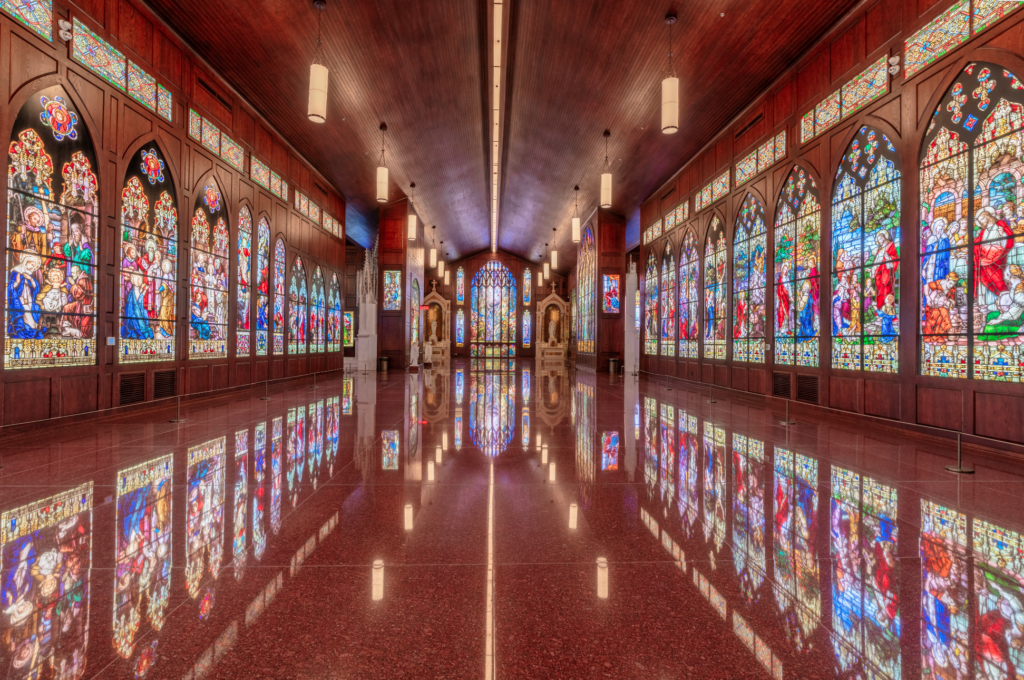 A Tiffany Appears
In the years following his becoming a first-time stained glass owner, Dr. Gelman had grown curious and inquisitive about the differences of quality between the modern stained glass and the obviously, more intensely-colored stained glass works which he had seen in both print photos and digital images— such as some of the magnificent Tiffany windows. After seeing the beautiful images of them, he was willing to buy Tiffany windows, but they remained obscured from him— hidden and nowhere to be found. People told him that Tiffany was just not available; undeterred, he didn't give up.
As time and life moved on, he frequently searched the Internet—on the hunt for fine, original Tiffany stained glass windows. Eventually he happened across an advertisement that offered authentic Tiffany. So, he called the California number from this ad and talked to the man who answered. Dr. Gelman asked him directly about how was it that he had Tiffany windows for sale when no one else did. Intrigued and trusting just enough, the conversation resulted in a trip for Dr. Gelman to Los Angeles and Malibu, California. Finally, at the seller's location behind his main house and up a flight of stairs, Dr. Gelman and the "possible Tiffany" owner walked towards the panels that were covered in dusty, aged blankets and leaned up against the wall of the dimly lit storage area. The authenticity was obvious to Dr. Gelman so he negotiated and made the purchase.
A MORE EXPERIENCED EYE
Another time, Dr. Gelman went to look at some stained glass windows to possibly buy. The owner claimed that they were definitely all by Tiffany and said that an assessment had been made by a specialist from Corning Glass who concurred with the owner. Due to his past experiences of seeing countless pieces of stained glass he had personally examined, Dr. Gelman could not agree. After a detailed conference call with The Corning Glass company, the final assessment was made. Dr. Gelman was correct. Stained glass does not presently enjoy the level of popularity that it rightfully claimed in eras of the past, especially during the late 1800s and early 1900s. Now—over a hundred years later, these choice specimens of artworks have been discovered on Dr. Gelman's path. What began almost thirty years ago as a minor hobby of Dr. Gelman's grew and became a passion, resulting in Dr. Gelman procuring the largest collection of antique stained glass windows in the United States.
He has worked closely with four major art brokers in the stained-glass world such as Donald Samick from J. & R. Lamb Studios, Don Riggott, Adrian Hamers, and Christie's of New York. Antique stained glass windows that once were a part of buildings that belonged to parishes— were for one reason or another— removed from their original locations and eventually, made their journeys to South Texas. Various cost and risk factors need to be taken into account when discussing antique stained glass windows, such as the price of the window itself, the disassembly, transportation, restoration, and new installation. That being said, the prime focus of the construction of this museum facility, as with cathedrals, resonated solely around the windows. The windows determined the size of the building as well as the aesthetics of the building to replicate a cathedral. Dr. Gelman determined the new destination for such masterpieces to be displayed should resonate with their original intended locations. He succeeded.
Much like gems, these windows are precious. They are truly priceless. In fact, NONE of the amazing, beautiful windows at the Gelman Museum are for sale. As a unified collection put on luminous display for a nonprofit foundation, there are many projected costs for the future which will be required to maintain and hold the museum. We hope you will visit and experience the joy and luminosity of the Gelman Stained Glass Museum.