Have you recently started working from home? It used to be that saying you work from home carried a negative connotation. Working from home is now an unplanned requirement for many who never had to do so before. Because of the many changes to our way of life, working from home no longer implies a lack of either professionalism or success.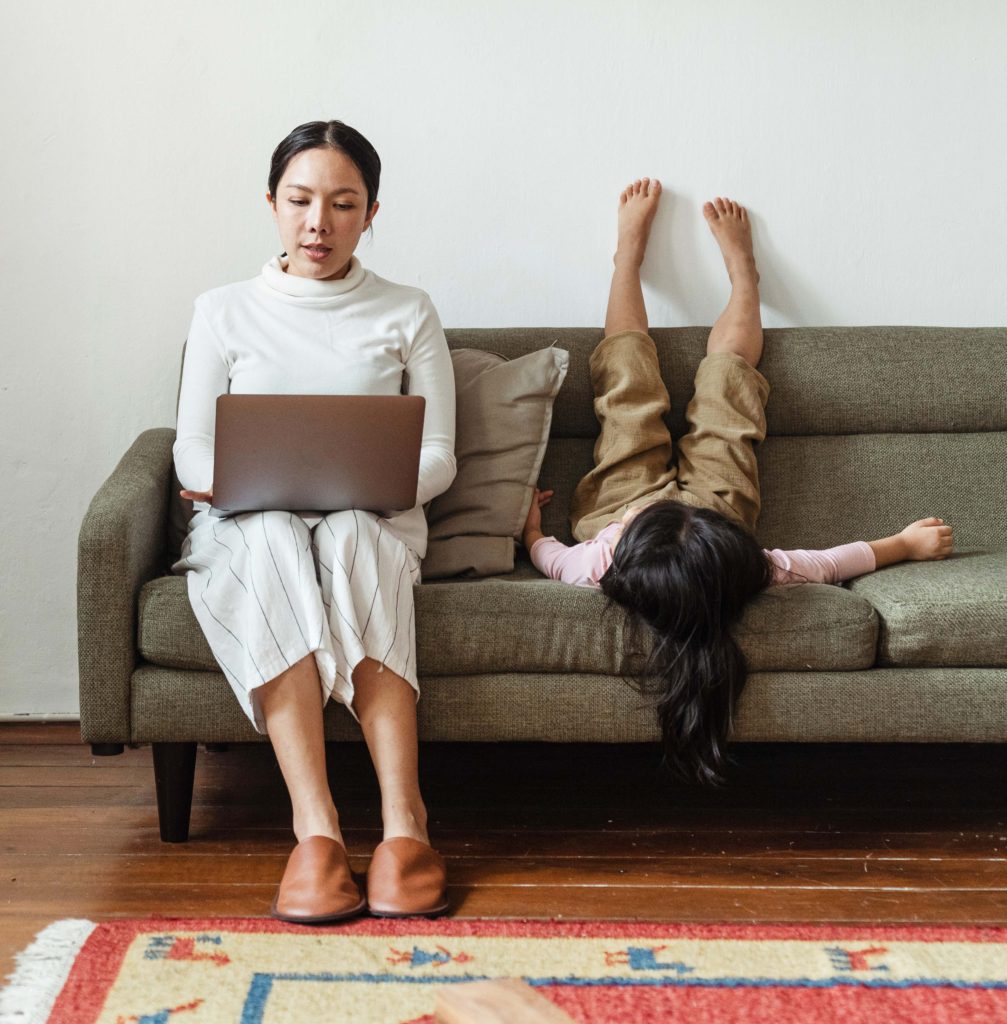 Why you need a Dedicated Home Office
When you work from home, it may feel difficult to keep your work life separate from your home life. Sitting at the dining room table to work makes you feel like you never leave your job. You need a dividing line between your work and home. A makeshift home office does not work well for the long term. A dedicated office space is the solution. Typically, walls and a door create a defined area, but they are not necessary. A book-shelf, chair, or other piece of furniture can serve as a demarca-tion point to keep you in work mode.
Having a home office environment separate from the rest of your home promotes discipline. It is also essential to boost your productivity. A separate office space helps remove any distractions from elsewhere in the house. If you are a small business owner, a home office can also provide tax advantages. You will be able to deduct part of your utilities, repairs, and depreciate the part of your home used for your office. Taking advantage of unused space and using it as an office or building a home office addition will also increase the value of your home.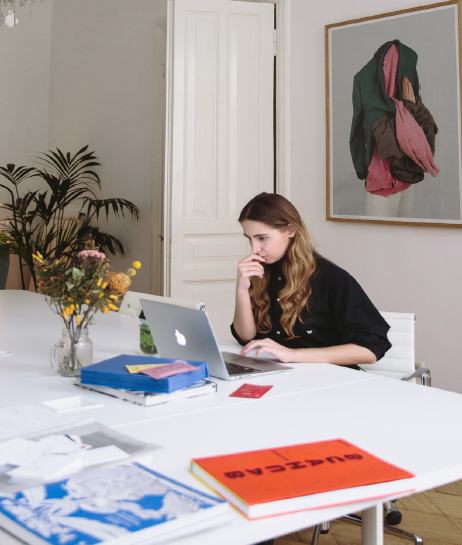 Where to put your home office
If you have one, use a room that Is large enough to hold a desk, chair, and computer equipment with a door that can be shut to separate work life from home life. You can convert a guest room into a dual-purpose space. It can be an office most of the time and a guest room when you have friends or family come to visit. You might also turn an unused formal living or dining room into a home office. For privacy, install a sliding barn door. You might also hang curtains over the doorway or use folding screens to create a divider.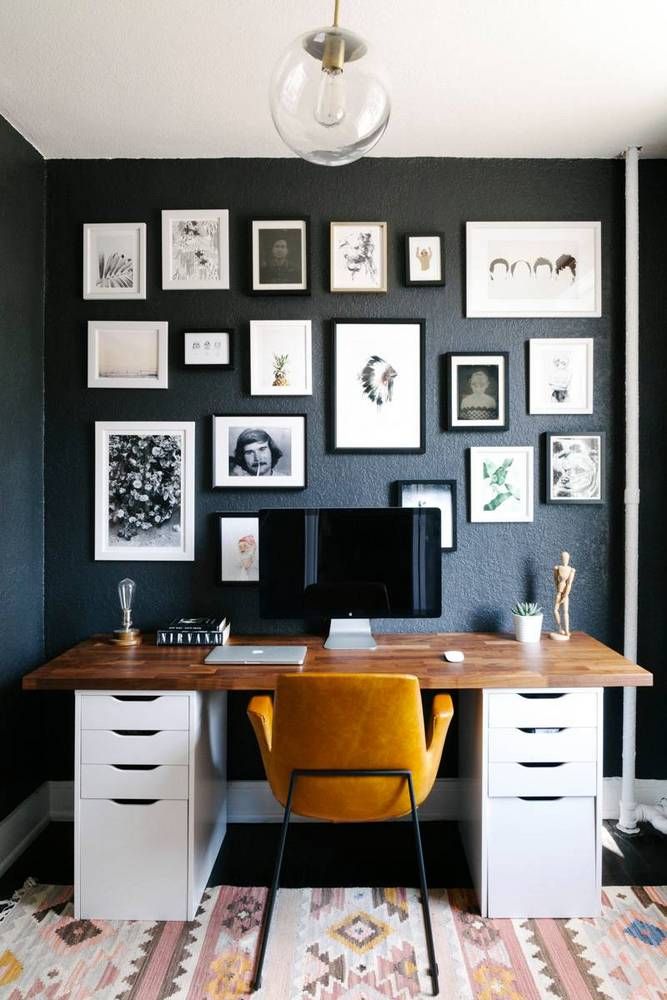 When space is an issue, a standard closet can be out-fitted with a built-in desk with shelving at either end. Simply close the doors at the end of the day to make a break between work and home. Turning an empty loft space into your home office is another creative solution. It can do double duty as a classroom area or homework station for your children too. Maybe you have room to enclose part of a porch or a corner of a large laundry room. You can convert a small garden shed into a home office "away" from home for those who may need to meet with clients. All of these are great ways to take advantage of unused space.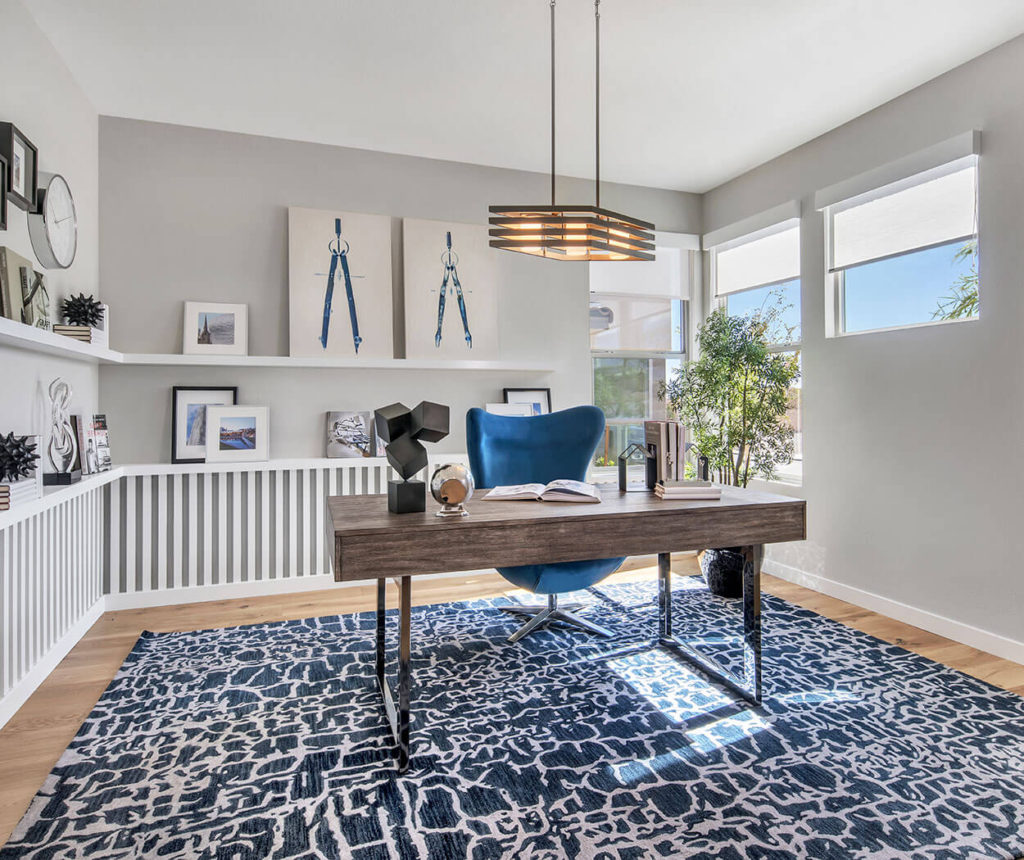 What to put in your home office
Working from home does have its benefits. It enables you to create the office space you desire. You get to choose every-thing that goes into your office space. When you are in a happy, comfortable environment then you will be more productive. The basic items you need for your home office are a desk, a chair, your computer, and a light source. Keep your office space well organized to keep your mind organized as well. Having a disorganized desk will keep you disorganized in your work and add more stress. If you need storage, build or add bookcases. Your desk or table should be least 29 inches in height from the floor to the top of your work surface. Your desk chair needs to be adjustable, easily movable, and provide lumbar support for your lower back.
It is a good idea to invest in a good quality headset to use when you have video conference calls. Relying on the micro-phone and speaker in your computer can result in poor sound quality and an annoying echo. Another must have for your home office is plenty of indirect natural light so you can easily read papers and see physical objects. Indirect lighting means lights that are not directly in your field of view or reflecting off your computer monitor. This prevents strain on your eyes which can result in headaches. Find a good desk lamp for those days when there is not enough natural light.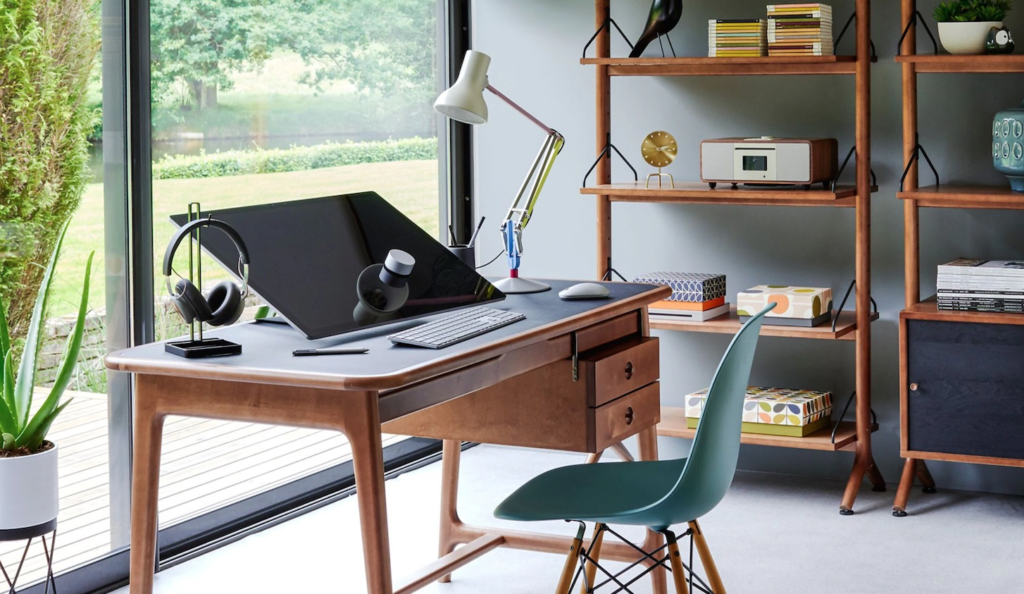 How to decorate your home office
When you create a workspace in your home, make sure that it inspires you to want to use it and allow you to get down to business. You want a space that is stylish, functional, and reflects your personality. Hang art that inspires you. Art energizes a space and motivates you. Keep things in your office which make you smile or make you happy. Even though you are working, your space does not have to look utilitarian. The more creature comforts you add to your workspace, the better you will feel while working. If you sit near a window, the best place-ment for your monitor is perpendicular to the window. Sitting with your monitor in front of the window results in too much contrast between the light from outside and the monitor screen.
If you sit with your back to the window, the light will reflect off your monitor and cause too much glare on the screen. Add a table lamp and a comfortable chair to sit in when you need to think. Place a plant on the table to bring nature inside, help you feel calm, and to clean the air. Add an area rug under-foot for texture, pattern, visual interest, and to absorb sound. Bring furniture pieces and décor from other parts of the house into your office. A mix of vintage and modern makes your work-space feel warm, inviting, and personal. Choose colors that you love instead of what is trendy. Colors that draw you in and speak to you will encourage you to do your best work. Your dedicated home office can be as simple as a desk and chair in an unused corner of your home, or as elaborate as a new room addition with all the amenities of an outside office.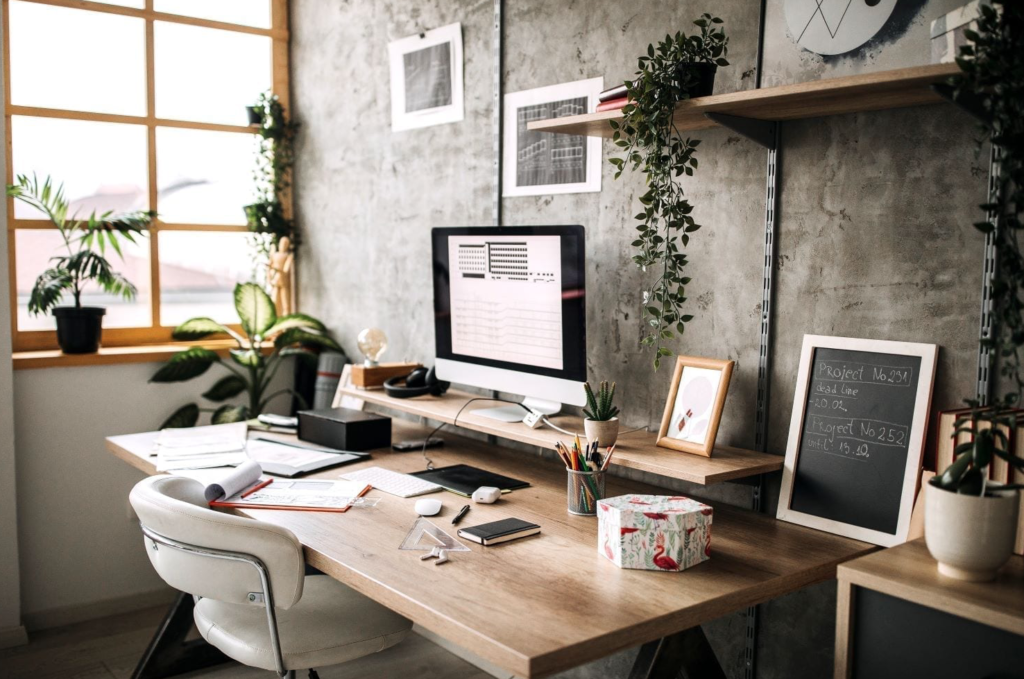 Results of creating a dedicated home office
Jobs and businesses that let you work from home are here to stay. When you work from home, you gain flexibility. Your commute is the length of your hallway so you spend less time traveling and you can get more work done. Having your own home office gives you better work-life balance, increased productivity from being better able to focus, and less stress. Working from home also means that you will learn to rely on self-motivation, self-discipline, focus, and concentration. By keeping a positive mindset and creating a home office that you love to spend time in, you can do a great job and enjoy the benefits that go along with working from home.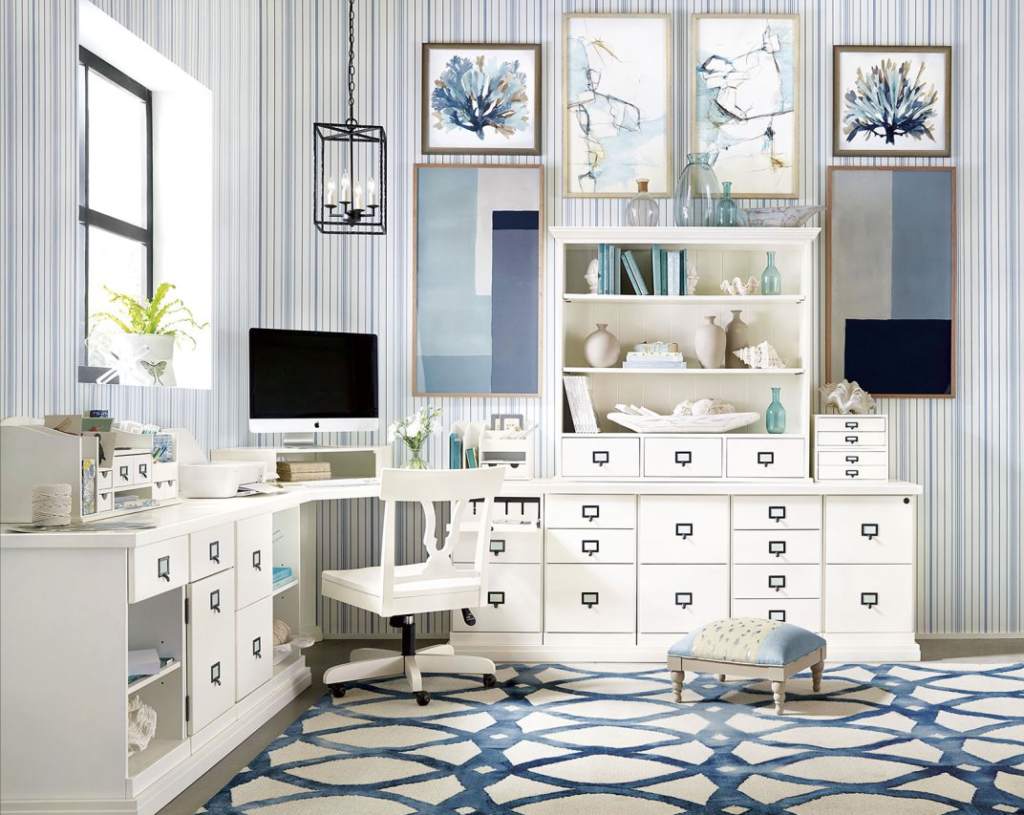 -Christina Rodriguez
Professional Interior Designer
divabydesigninteriors.com