Traditionally, a mural or stencil is any artwork painted directly on a wall, ceiling or any other typically large flat, convex or concave surface. They are presumed to be the oldest human art forms, as numerous ancient human settlements suggest. Murals and Stencils can be found all over the world, in places big and small, new and old, both public and private. A wide variety of artistic styles can be used by incorporating the use of variable techniques, materials and textures, like combining Realism with a dramatic sense of scale and amazing depth, while others can be noted for captivating color palettes and design, or an extraordinary sense of detail.
Mario Morales, owner of Artistico Art Studio,is a local artist that has been producing these types of work both locally and nationally, using "Where Art Meets Design" as his motto. For over three decades, Morales has specialized in creating unique decorative one of a kind finishes, meticulously handcrafted for an appearance of incredible depth and dimension. Morales uses these and other types of artwork and custom  finishes like Venetian Plasters and Gold Leafing, to achieve unique decorative spaces by incorporating and transforming art forms into sophistication with a dash of glitz, in turn evoking glamour and romance. Morales's mission is based upon a collaborative approach with his clients, in order to understand both the client and projects' specific challenges, and then applying the most skilled resources in order to obtain the most creative solutions.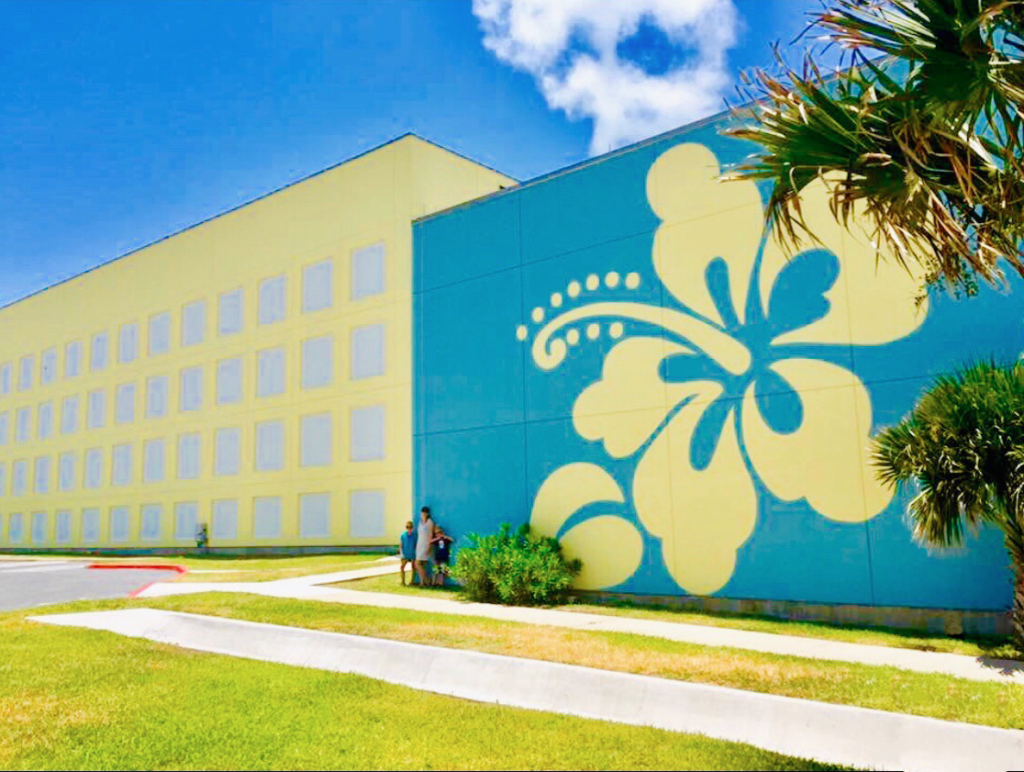 "In order to better understand how this type of artwork works in architecture, it would help to define what each is, as well as the cause and effect of its applications."
What is Stenciling?
Stenciling is a decorative finish technique used to produce and exactly replicate a design or pattern. The image or pattern is created by applying paint to a surface by using the custom made stencil to apply a design to a surface through cut designed openings, therefore allowing the paint to reach the desired parts of the stencil design.
The use of stencils in interiors is a common decorative finish technique, and has been used to create new designs or help reinstate existing decoration in homes and businesses all around the world. Though stenciling can be a relatively simple technique, it can achieve the most mesmerizing and complex designs. Typically, when talking about stenciling, it refers to the process as it applies to architectural projects. The art work in stencils can range from simple lettering and basic patterns to the very ornate and complex multi-layer designs with variable colors and textures.
Stenciling is just one of many decorative design tools and techniques that is widely used by architects, designers and homeowners alike. When it comes to this type of artwork, stencils can be used as the perfect tool for creating stunning spaces. Stenciling is best used to decorate in quantity as well as quality, offering a practical fully customizable method for producing custom elegant designs at any scale or proportion be it simple or intricate.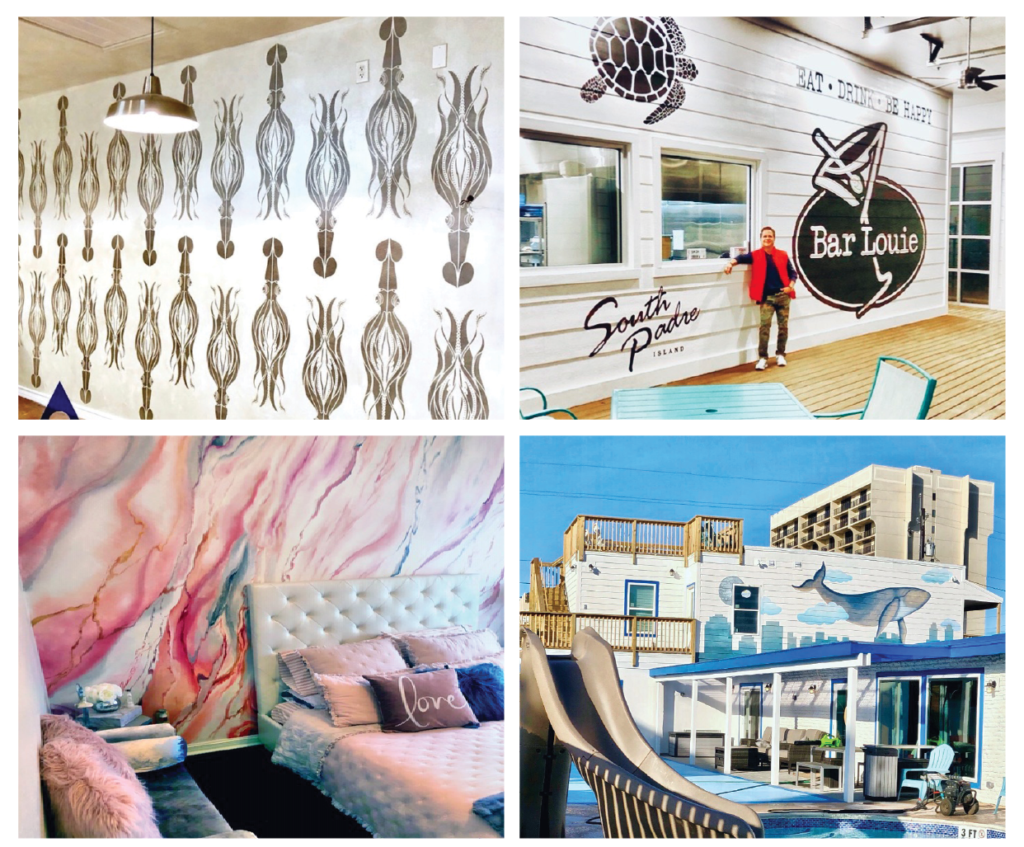 What is a Mural?
Traditionally, a mural is any artwork painted directly on a wall, ceiling or other large permanent interior or exterior surface. They are presumed to be the oldest human art form, as cave paintings at numerous ancient human settlements suggest. Typically, a wide variety of artistic styles can be used in mural painting, by incorporating the use of mixed techniques which combine Realism with a dramatic sense of scale and amazing depth, often noted for an extraordinary sense of detail, or originality in design.
Good mural artists will consider their mural in relation to the mural's natural or architectural setting, allowing the piece to become an aesthetic, social, and most importantly engaging and relevant part of the space it occupies. Murals today are painted in a variety of traditional and non-traditional ways like oil, water, or diverse -based media, and can vary in style from abstract and trompe l'oeil, to faux finishes and hyper realism.
Murals have a dramatic impact, either consciously or subconsciously, on the attitudes of the viewer as well as the space it is applied on. Furthermore, the presence of murals in a any room or wall can be engaged from any angle and direction createing an interactive experience can by adding an emotional quality level to the daily lives those viewing it.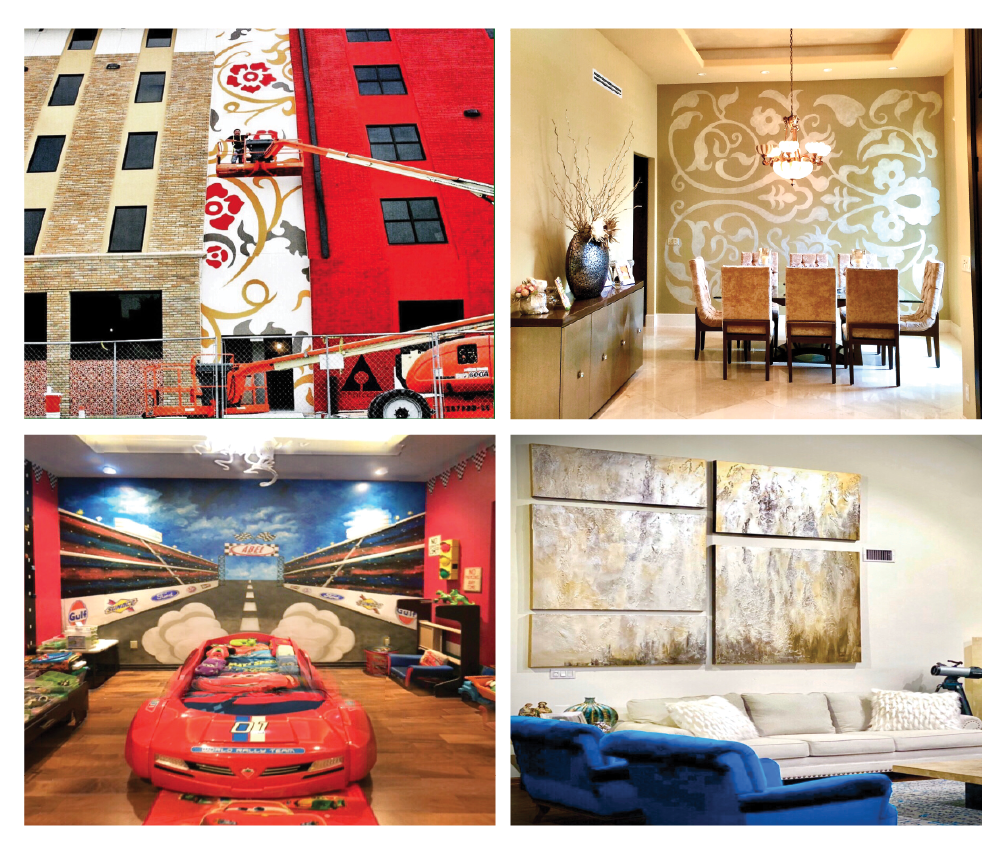 Murals are wonderful in Great Rooms, Living Rooms, Bedrooms, Dining Rooms, Bathrooms, Solariums, Breakfast Rooms, Parlors, Private Offices… the list goes on. Most importantly, the personal connection and interaction between the space and artist is an amazing and unique experience, by allowing the viewer a glimpse into the creation itself.
Morales's designs solutions create a rich visual and textile experience with a wide diversity of possibilities and applications for every room in the home. Design Solutions and decorative treatments are created specifically for each and every context, seeking only what is appropriate.. By working closely with the client, including "hands on principal management", each      project can be custom tailored to bring consensus at every stage of a project. Commissioned Projects can be public and private, large and small, and through this experience, constantly strive to create one of a kind artwork by searching for and finding the proper project solution. The pictures shown are only a small example of how Morales of Artistico Art Studio can completely transform a space using these techniques.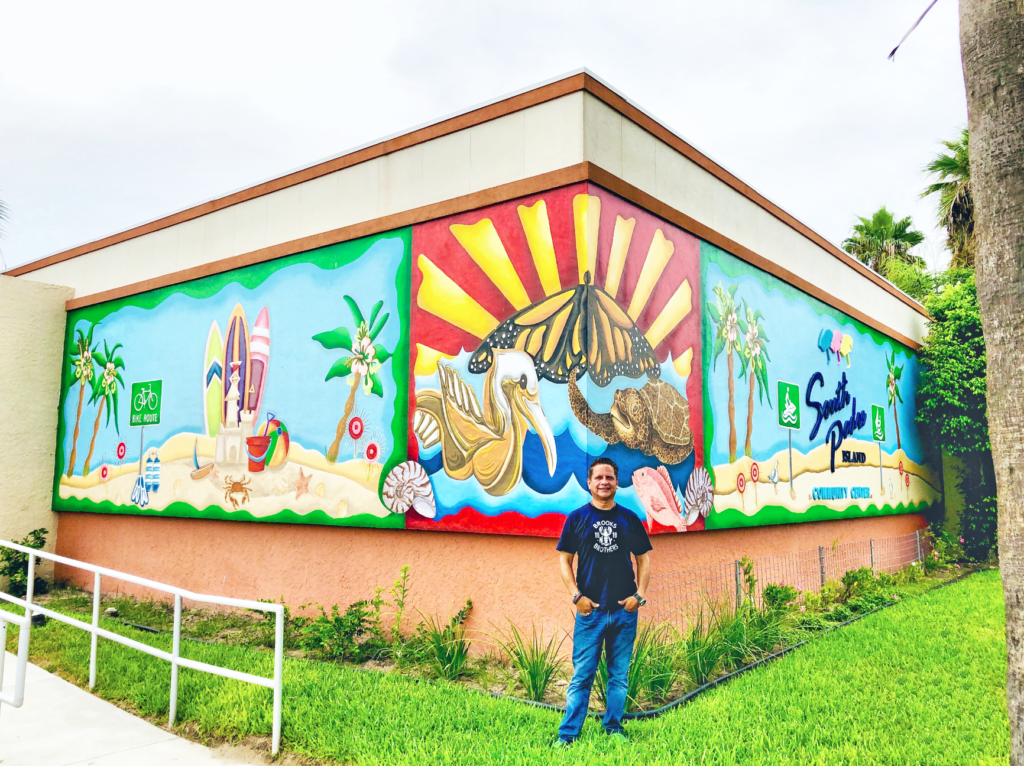 Weather building a new home, remodeling, or looking to add a special touch to your business or home, Mario Morales of Artistico Art Studio will help you develop, design and produce beautiful one of a kind finishes for your home by making an appointment at (956) 497-1126. You are invited to discover and enjoy more of this type of work at www.artisticoinc.com