Written By: Mandy Allen
Photographs: Warren Heath
Christmas remains a time-honoured celebration of family and friends, hearth and home. This year, put an original hand-spun twist on your decorations by stepping out of your front door to forage for flora and craft your bounty into fragrant wreaths, pretty posies and conversation-starting artworks. Redefine the notion of Christmas bling with dustings of metallic sparkle rather than full-throttle shine, and focus your styling efforts on creating a hygge-inspired sanctuary for the senses with cosy throws, lightly-scented candles and organic textures – all connected by a desaturated palette that is as inviting as it is serene.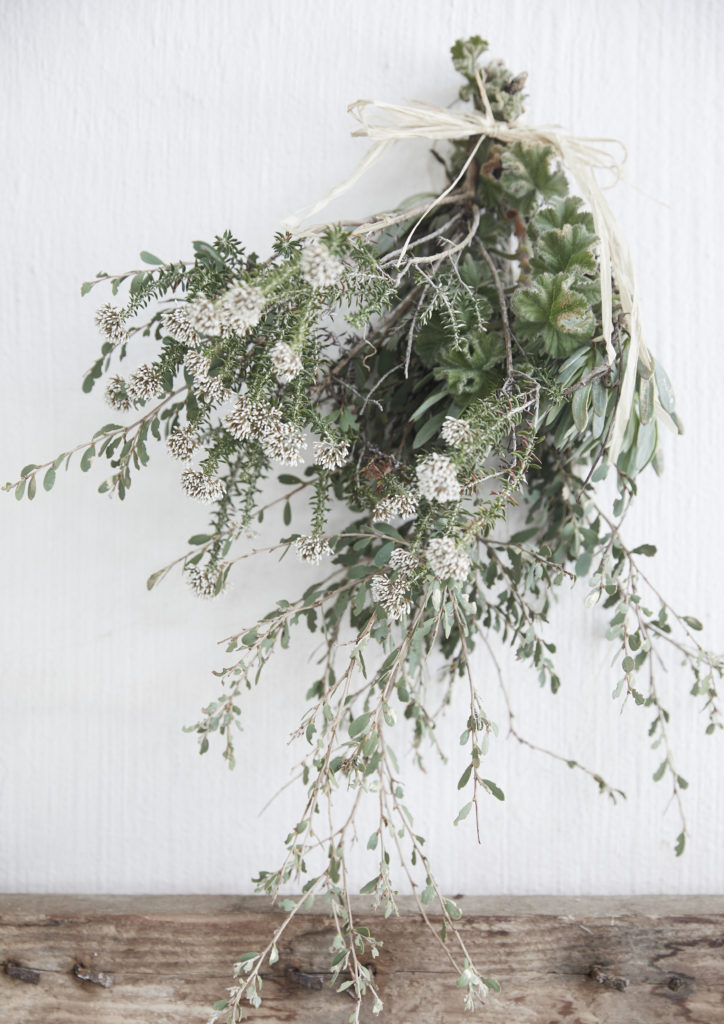 POCKET FULL OF POSIES
This loosely structured fynbos/foraged flora posy is made more evocative with its distinctive earthy fragrance, scrubby sprigs and layers of raw greens. Suspending the floral arrangement upside down from a picture nail lends a rustic aesthetic to the space, referencing farmhouse chic style.
• Arranged simply with raffia string, consideration has been given to form as well as the shapes of the leaves.
• As well as using fynbos/foraged heath and scrubby evergreens in your DIY posy, weave in woody herbs such as sage as well as rosemary and thyme. When in flower, they will add a pretty splash of blues and violet as well as fragrance.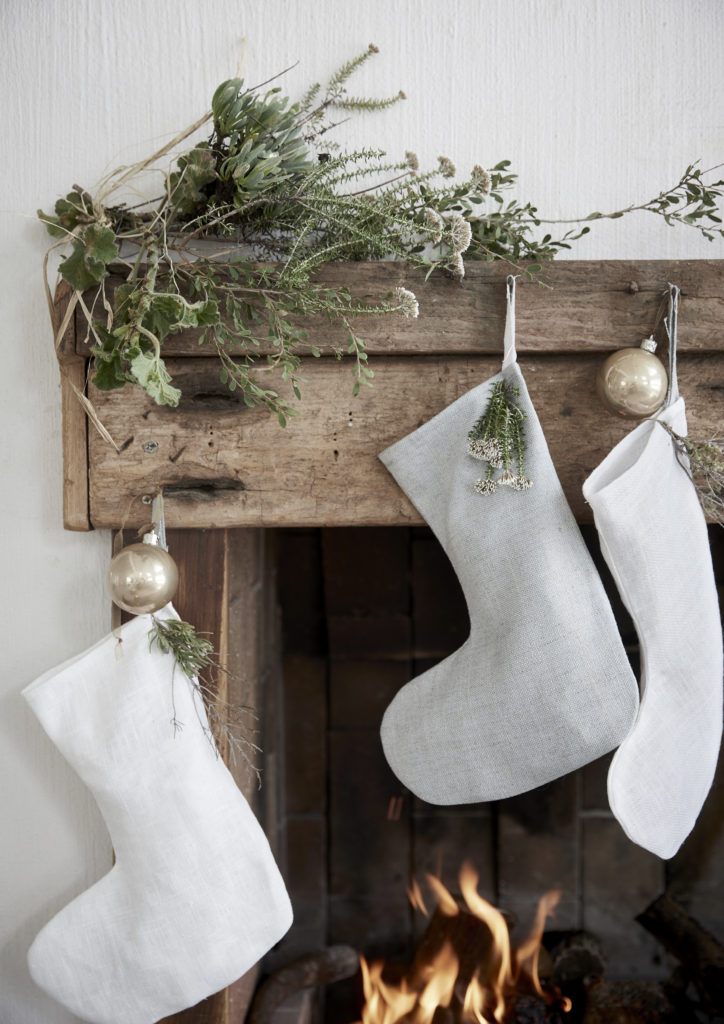 SIMPLE GIFTS
Continuing the muted aesthetic, folksy knitted prints on traditional Christmas stockings have been replaced by linen in refined neutrals which have been sewn into oversized hosiery for sweets, trinkets and seasonal favours. On the mantelpiece, the standard formal arrangement of flowers in a vase and other decorative pieces have been replaced by a posy of fynbos/foraged heath, placed off centre as an eye-catching accent.
• Only basic sewing skills are required to make your own linen stocking, either by hand or machine.
• Depending on how many stockings are needed, vary the colour-way by a shade or two – from white to cream to dove grey.
• Instead of embellishing with thread or beadwork, pin sprigs of flora onto each stocking.
• Introduce a dash of shine in the form of gold Christmas baubles. It is Christmas, after all.
• Tons of vanilla-scented pillar candles are always a good idea to heighten the cosy atmosphere. Vary the sizes for a the sake of interest.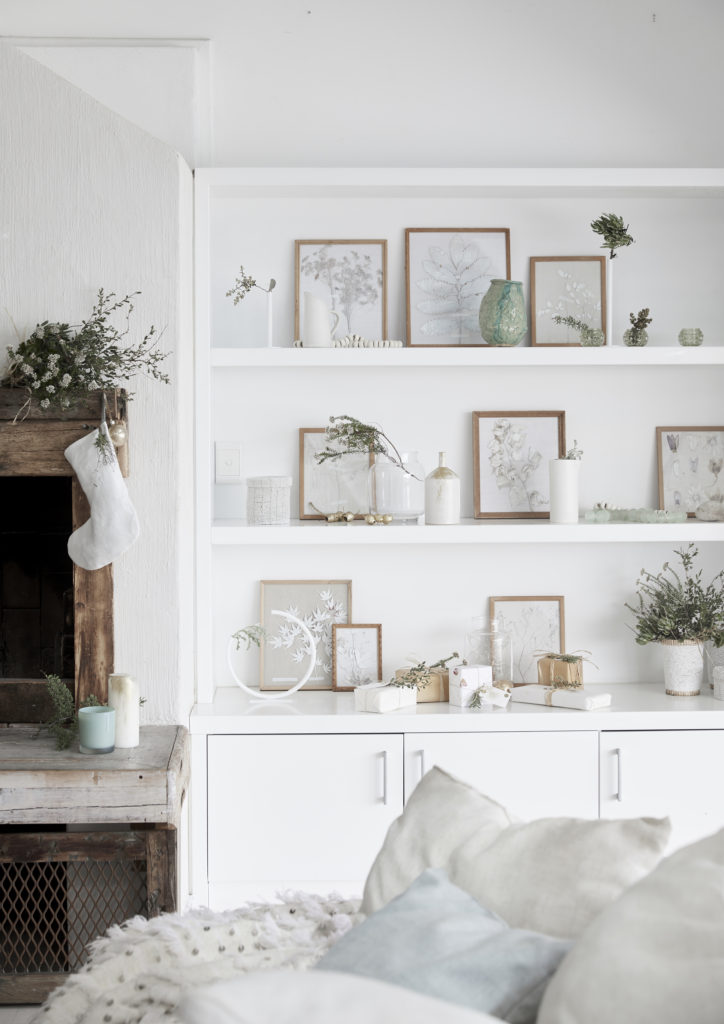 PICTURE PERFECT
          A display of framed pictures, vases and other decorative accessories is a tried-and-tested way to personalise a space: even more so when the artworks are made by you and seem plucked straight from a cabinet of curiosities. While a predominantly white palette can feel austere, here it is tempered by organic shapes, picture frames in mid-tone wood and a mix of collectible ceramic vessels and hand blown glassware in tones that mimic the earthy green of the fynbos/foraged greenery. 
• The Victorian craze for flower pressing – the preservation and showing off of the many beautiful, intriguing forms found in nature – gets a modern update with this easy DIY idea. Collect an assortment of leaves, fronds and other flora that appeals to your eye. Spray paint them white, allow to dry, then tape onto artist's quality paper and display in simple, contemporary frames (either under glass or with the glass removed).
• A little bit of sparkle is good for the soul. Think beyond tinsel and spray paint bluegum (eucalyptus), acorn and other interesting tree pods in gold.
• Sprinkle white ceramic vessels as well as fynbos/foraged flora with a temporary dusting of metallic paint powder.
• A clear glass vase makes a ready-and-able container for a delicate string of fairy lights – obligatory at Christmas time, naturellement.
• Purists will appreciate the visual harmony of Christmas presents that connect with the greater colour scheme – here wrapped in handmade gift paper embedded with flowers as well as metallic Kraft paper. Simple adornments such as raffia, butcher's string, gold stationery dots, star stickers, old-school office depot tags and sprigs of wild flora and fragrant, woody herbs lend a touch of personalised character to each one.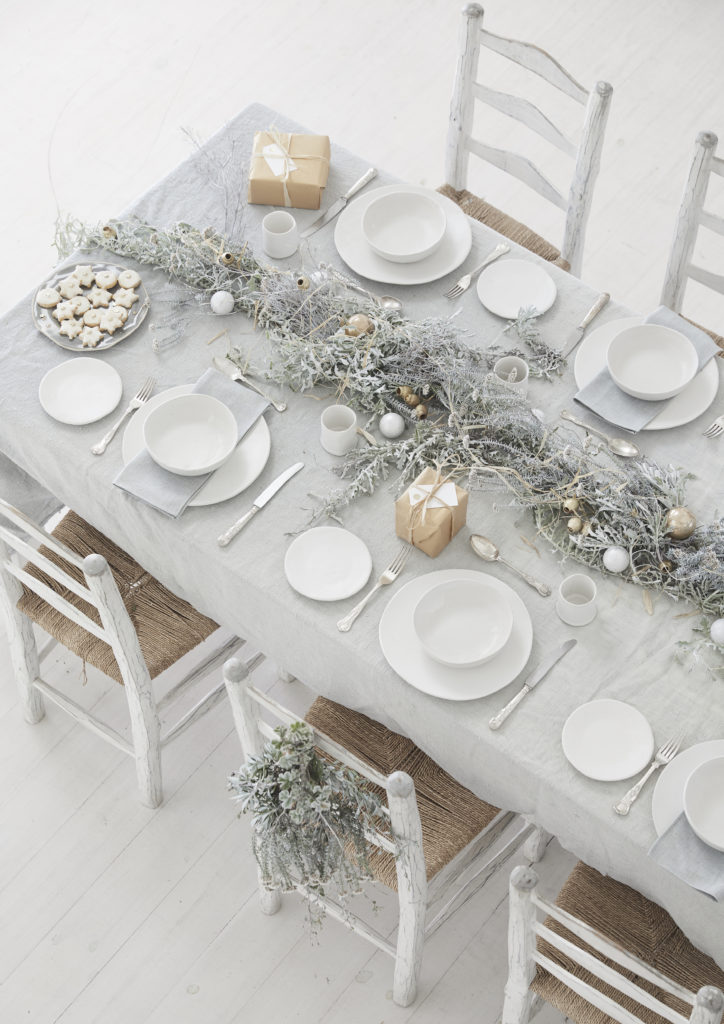 NATURE STUDY
Create a sense of drama and occasion with a centrepiece that conjures up romantic notions of overgrown gardens and forest thickets dusted in snow.
• Lay a natural foundation with a soft washed-linen tablecloth or length of linen-like fabric, the edges left unstitched for a rustic, raw look.
• Arrange swathes of fynbos/foraged heath, scrubby evergreens and fragrant, woody herbs down the centre of the table, and loosely secure with raffia and/or jewellery wire to keep the arrangement fairly contained while retaining an artfully nonchalant effect.
• Carefully slip sheets of newspaper underneath the arrangement and enhance with a light spray of white spray paint. Sprinkle with a dusting of gold powder paint. Remove the newspaper when the paint is dry to the touch.
• Place metallic and pearlescent Christmas baubles and gold-painted seed pods amongst the leaves and twigs. Fairy lights can also be woven into the centrepiece.
• Even if you're not the world's best cook, a beautiful set of crockery is half the battle won. This imperfectly perfect set of handmade tableware and drinking vessels has an irresistible tactility and wonky organic charm. Paired with the grandeur of vintage King's Pattern cutlery with its dulled silver sheen, it's a high-low pairing made in style heaven.
• Place presents wrapped in a paper with a corresponding palette to your décor on the table.
• If the design of your chairs allows for it, tie individual posies onto their backs as take-home gifts for guests.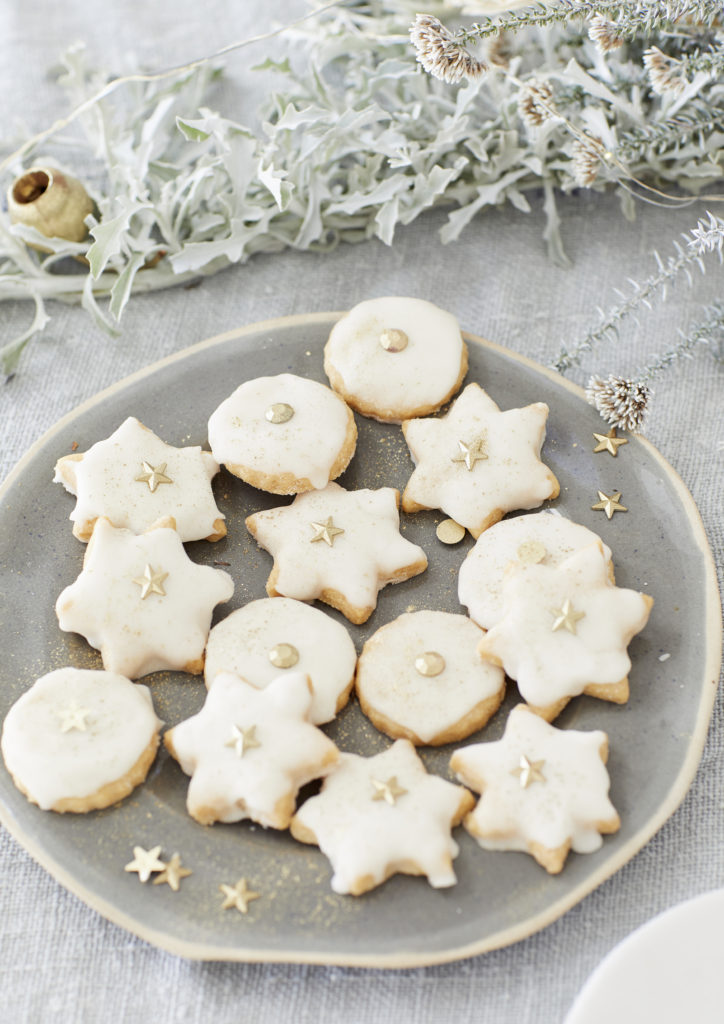 SWEET ON YOU
• If baking is not your forté, buy store-bought shortbread biscuits and decorate with a simple icing sugar glaze, and decorate with edible glitter and gold stars.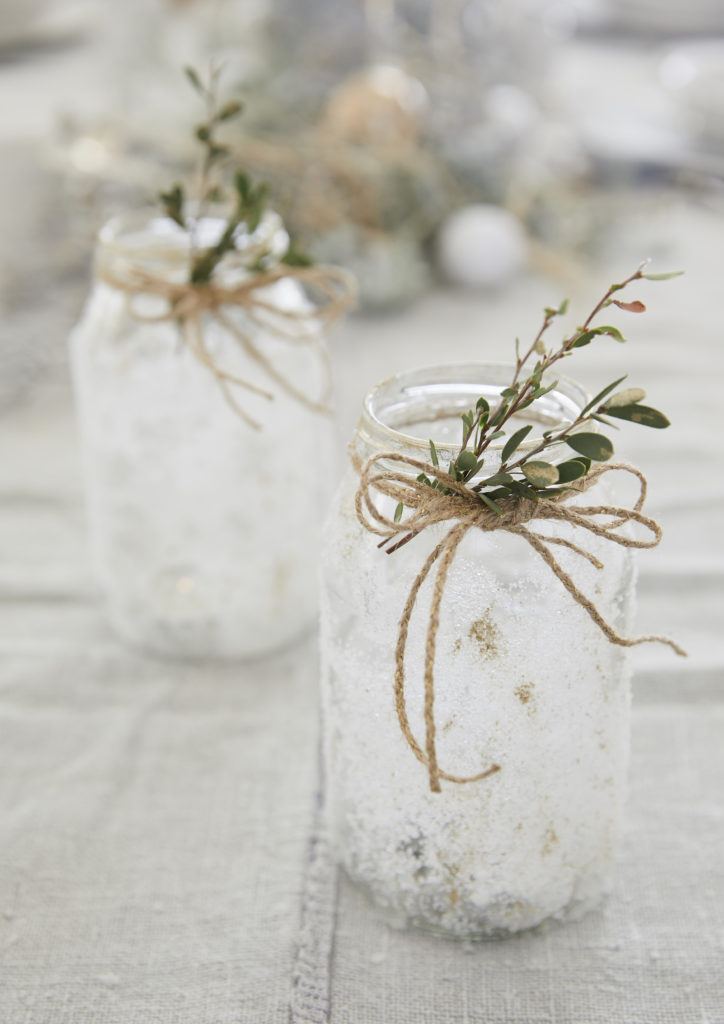 LET IT SNOW
If you live in a balmy climate but have dreams of relishing in a white Christmas, try this easy craft that suggests frosty, snow-clad windows and icy flurries.
• Customise a mason/pickling jar by wetting it and rolling it in a tray of white crystallised sugar. Allow it to dry and carefully tie raffia around the top and place a cutting of fynbos/heath/greenery.
• Place gold tea light candles inside the jars and place a few down the length of the table or anywhere in the home that requires a measure of Christmas whimsy.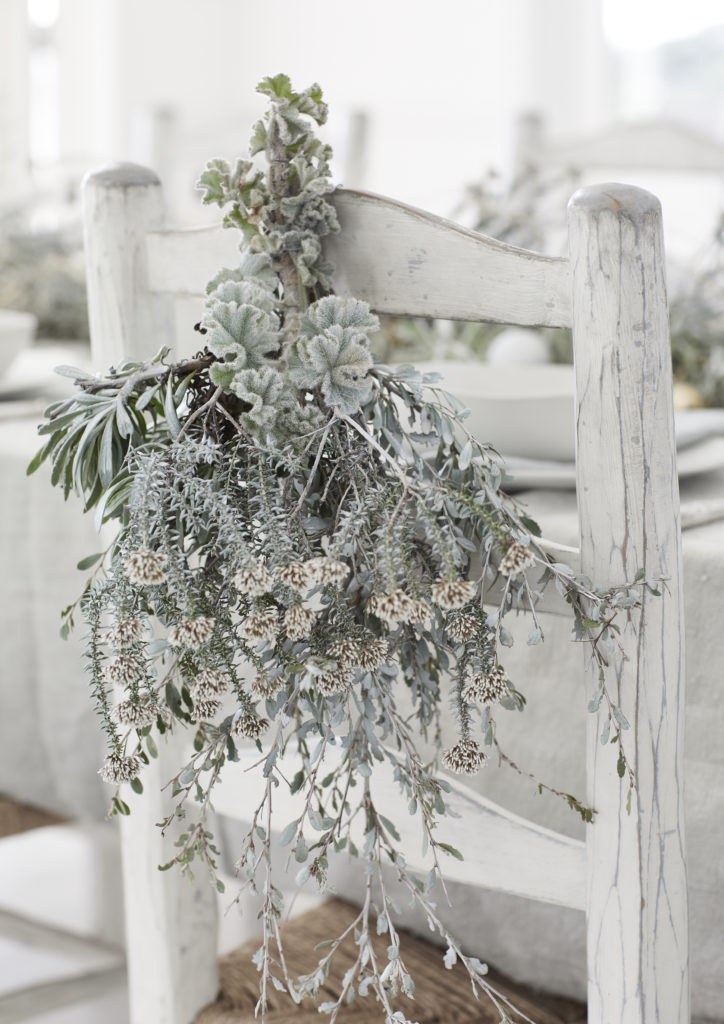 BEHIND THE SCENES
• Tie individual fynbos/heath posies as well as wreaths onto the backs of chairs and give them to guests as take-home gifts.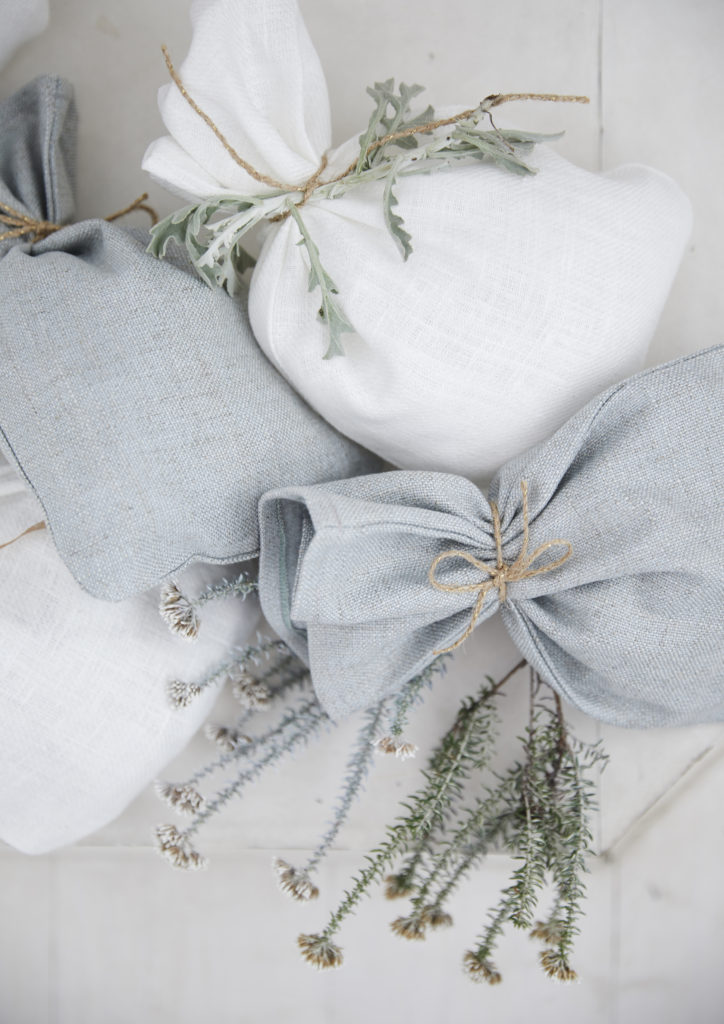 HEAVEN SCENT
• Leave a gift of linen bags for overnighting guests (easy to sew by hand or machine) that have been filled with fragrant fynbos/foraged heath or special artisanal soaps infused with botanical ingredients. Leave the little scented bags in drawers and cupboards to fragrance your clothing and mix in dried lavender, sage and rosemary to keep moths at bay.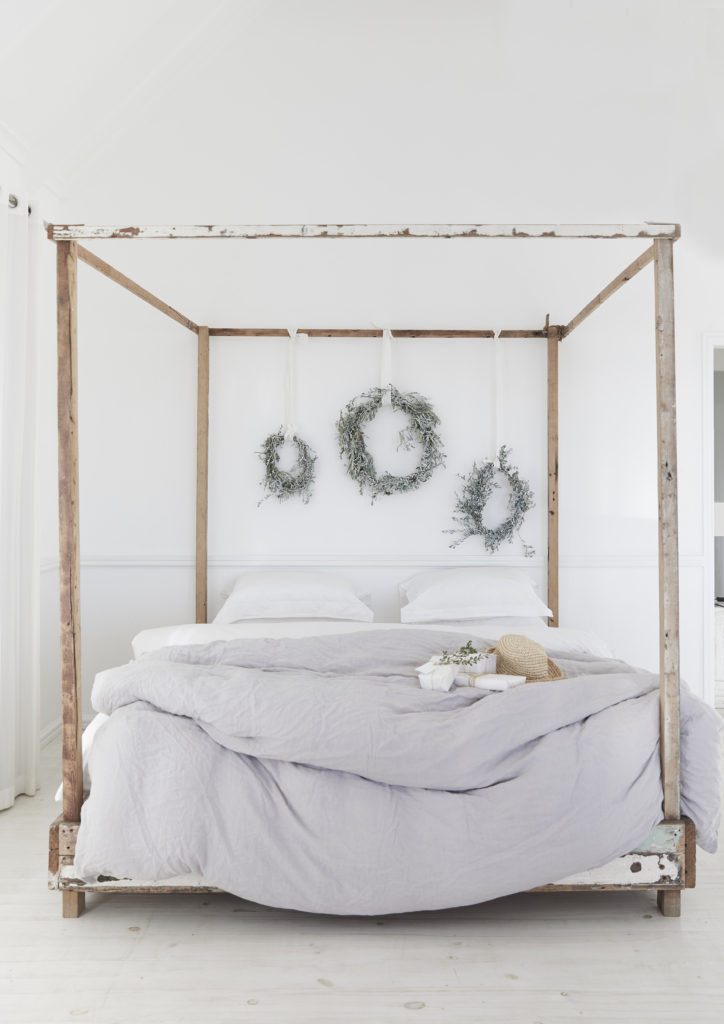 SILENT NIGHTS 
          Even the most simple bedroom setting is elevated into something extraordinary with considered attention to detail: inviting textures, a colour palette that is both engaging and calming, and something to suggest a connection with nature.
• Craft a wreath from bendy twigs such as willow or weeping/silver birch using secateurs to cut lengths, scissors for trimming and natural twine for binding into shape. Once you have your garland, spray paint it white and allow to dry. Weave through jewellery wire (optional) for a hint of shine and a mini string of battery-operated fairy lights. Then arrange cuttings of fynbos/foraged flora before hanging in place with thick ribbons or roughly cut lengths of linen.