"Fall in love with Fall"
Written By Kathryne Pulkingham
We love this time of year, as the weather cools and the colors start to change. An Autumn arrangement, whether it be a fresh rosemary wreath for your front door or fireplace, can make the season feel special and festive. A beautiful gathering of greenery, small grasses and orange and yellow flowers con-jures up memories and traditions from days of old with family and friends at this time of year.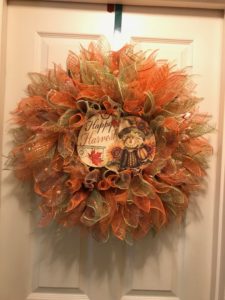 You could think of it like decorating a room … with color, texture and form. Branches and kingwood torch adorned on a wall of your outside facade or porch with different colored gourds, pumpkins and leaves and everything fall, welcomes everyone who passes the threshold as an invita-tion to the coming season. Perhaps your favorite ornaments from younger years, such as little wooden birds or owls, could be incorporated into your arrangements within your inside decor as well. A carved out pumpkin serves as a great vase for your fall flower arrangements.
"Add a billowy bow to bring more dimension or even a rustic, burlap type ribbon for a perfect finishing touch. It's a door Delight!"
Pumpkins are my favorite fall decorating element, too. Try using both real and faux together for a beautiful dis-play. When mixing, real with faux, gather them in a lovely low-sided basket or tray for added texture. Tiny pumpkins perched on top of candlesticks low and short will give you multiple levels. I suggest grouping pumpkins in threes, lining them on your mantel or a shelf. Remember pumpkins look best alongside other fall elements. They play nicely with acorns, leaves, moss and pinecones. Just make sure to add these beautiful gifts of autumn to your decor and enjoy them while they last.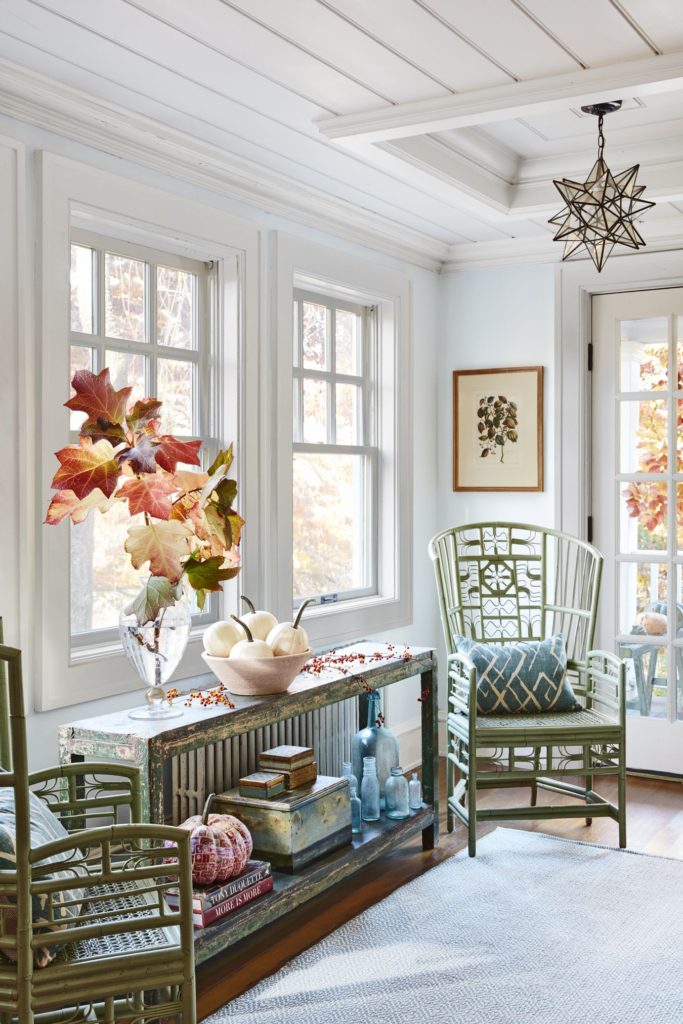 A carved jack-o-lantern with a candle inside is fun for kids of all ages. Perhaps you could hang or nuzzle into your fall arrangements a small chalkboard with the words gather, harvest or Autumn written on it. If you live on or near the beach, sea oats would be wonderful or maybe even a scare crow holding them would be oh so festive! Hosting a dinner party? Your guests will love to see a little white pumpkin sitting atop the napkin at their place setting. The main thing is to have fun and be festive with your autumn arrangements. The possibilities are endless and it's all up to your personal style and flair and that's the fun! So go ahead and fall in love with Fall!
If you're not a fan of orange or the other traditional colors of the season you could decorate with pumpkins of neutral colors. I like to add fresh greenery like seeded eucalyptus or olive branches. I think even though you're look-ing for neutrals, a little green can really help give your fall decor some extra excitement. Throw in some faux gold pumpkins for a bit of glam! A grapevine wreath for your front door is always nice, but here's the secret: They are actu-ally using two grapevine wreaths. All you need to do is wire the two wreaths together on top of each other. Use tiny gray galvanized wire so it won't be seen. As for embellishments, feathers are a nice choice, they are both natural and interesting and all this will give you a full and lush-looking grapevine wreath.