Serving South Padre Island & the Laguna Madre Area since 1973 
           Spring Break was done a little differently in the 1970s. College kids from around the country would spill out of charter buses in bikinis and cowboy boots ready for fun in the sun on South Padre Island. The rest of the year, the Island was a sleepy scene with untouched sand dunes as far as the eye could see. It probably looked a lot like what Father Nicolas Balli, a Catholic priest, who owned the Island in the early 1900s saw- except for a few palm trees Troy Giles was busy planting on each available lot for sale. This fun-loving realtor loved the  Island and Saturday mornings were especially exciting to him. Troy sprang out of bed and headed to the office to review the corkboard filled with 3×5 index cards. Red, green, and blue pushpins indicated which properties were still available to be sold.
"Movers and shakers" of the Rio Grande Valley were on the beach for the weekend and ready to throw some money around. Other than enjoying a juicy steak at The Santa Fe Steakhouse, there wasn't much to do in the RGV in those days so SPI became their playground. At dinner, a McAllen businessman with a little spending cash would ask, "What's there to buy today?" He was ready to make a purchase.
Just like that, Troy with an index card in hand would sell another beachfront property with a freshly planted palm tree on it for $1,500. The next weekend he'd do it again. As a young man, Troy attended college and was called to serve his country as a helicopter pilot in the Vietnam War. When the war was over, he headed to the Island ready to make his mark on the South Padre Island real estate world. This began his 50-year real estate legacy.
Over the years, Troy and his experienced REALTORS® developed and sold developments up and down the Island including; The Villas of South Padre, Las Marinas, Las Villas, Las Velas, and countless other projects. He even had a hand in co-developing the Boardwalk Condominium Yacht Club with close friend, Paul Veale, Jr. Working hand in hand with builders, developers, and investors on South Padre Island, Troy Giles Realty became the leader in real estate development throughout the Island's lifetime. His firm can now handle any real estate transaction whether it's the sale of a two- bedroom/two-bathroom condo or the sale of a massive tract of beachfront property primed for big development. This wealth of knowledge helps Troy Giles Realty assist clients in making the best real estate decisions possible.
          Even though South Padre Island has grown since the '70s, some things remain the same. Spring Breakers still party in the Spring, Rio Grande Valley families still vacation on hot summer days, and real estate is still big business. Although today, the land goes for quite a bit more than $1,500.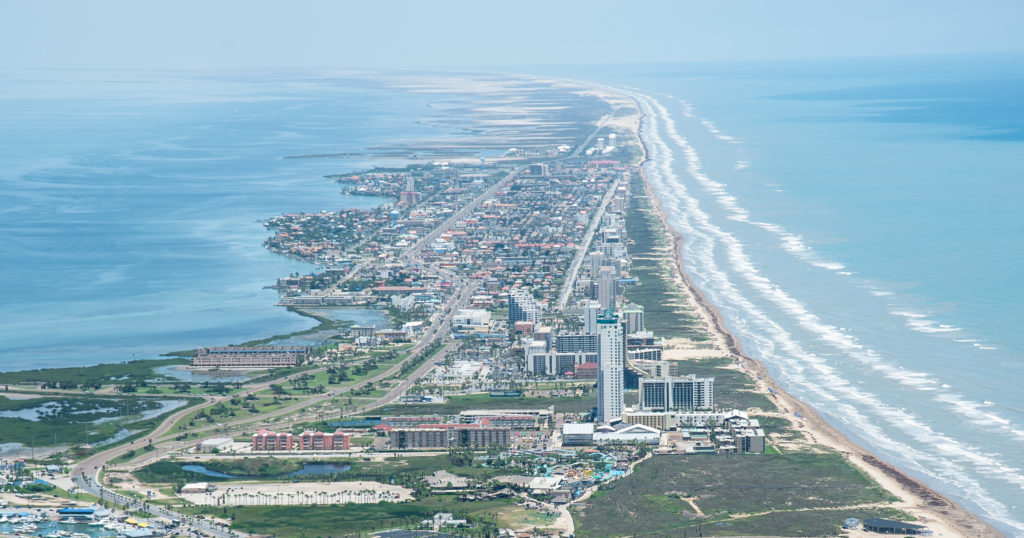 Recently, Elon Musk made a huge investment in the area by creating SpaceX. Now beachgoers can get a tan while watching rockets shoot into space just a few miles away. The Island is abuzz with big dreams and big plans for the future and investors from all over the world are taking serious notice of the Island. South Padre Island's real estate inventory used to last for over a year. Today, inventory only stays on the market for a little over a month! Ten years ago, the market was significantly slower paced yet Will Greenwood knew the Island's potential.
Will grew up on the Island as a child and came back to SPI for a summer internship to work with Troy. Will's first job was working at the front desk at The Palms Resort and Cafe on the Beach. After getting his feet wet in hotel lodging he had the opportunity to work at Coastal Lifestyles learning about vacation rental management. He spent the remainder of his internship working directly with Troy and getting a good grasp on HOA Management and the SPI real estate market.
After graduating from Florida State Will decided to move to South Padre Island full-time to start his career in real estate. During that time Troy mentored Will and shared an invaluable amount of knowledge on the history of Island real estate. A couple of years later Will started SPI Rentals, a vacation rental agency and now manages over 170 vacation rental properties on the Island. He works closely with real estate investors looking for income-producing properties on SPI. Will served on the Convention and Visitors Board as well as the Parks and Recreation Committee. He loves South Padre Island and stands ready to support SPI in any way he can. Looking toward to the future, Will and Troy became TGR Partners in January 2021 along with Louie Tijerina– the new principal broker of the long-established real estate agency.
          Louie Tijerina, a 4th generation Brownsville native graduated from Texas Christian University and began working with a real estate developer in Dallas, Texas. There he learned to develop and lease strip malls and find just the right tenant  mix for shopping centers. He did his job a little too well—he sold all of the developer's properties and sold himself out of a job. He then joined the renowned real estate brokerage, CBRE. It is the largest commercial real estate service company in the world. The national company manages properties for the likes of the FDIC, Goldman Sachs, and The Walt Disney Company. 2020 led him back home to his family in Brownsville. In July, he connected with Troy Giles, and together they worked together on multiple projects. With CBRE, Louie is the 'eyes and ears' for out- of-town investors looking for the right piece of land on which to build. As a "see-er," he vets properties and makes suggestions for those looking to move to South Padre Island and the Rio Grande Valley. He's ready to run the commercial real estate side of Troy Giles Realty and is the principal broker for the firm.
 Each partner brings something different to the TGR table but together they have it all– an amazing team of experienced realtors and brokers, over 50 years of experience in SPI real estate sales, property management, rental management, real estate development, and a smart, experienced professional staff.
       Troy Giles Realty is a truly local office and buyers and sellers can be sure when they call Troy Giles Realty, they will be dealing with an experienced realtor who knows the market. These top producing agents have earned the confidence of their  clients and loyally represent buyers and sellers on residential and commercial transactions for the South Padre Island, Port Isabel, and Laguna Vista areas. Troy Giles Realty is expertly organized behind the scenes by Melissa Clark who has been the office manager for Troy Giles Realty for 18 years. Melissa has a tremendous amount of knowledge about South Padre Island and the Laguna Madre Area. She began working with the real estate office in 2003. Since then, she has seen the Island grow and has played a crucial part in the marketing and closing of transactions in countless projects and real estate ventures. She has a well-established background in graphic design and has a main role in all advertising efforts. She also has an active real estate license and is always available to assist buyers and sellers. Melissa is a key person to the success of Troy Giles Realty.
Real estate agent, Glenda George, moved to South Padre Island from Yorkville, Illinois in 2013. As a native of the Rio Grande Valley, Glenda was ready to leave the cold and snow of the Midwest and return to where her childhood memories brought her the most happiness– the sun and the sand on South Padre Island. With an Associates in Accounting and over 25 years of experience in accounting, customer service and sales Glenda started off as one of our HOA Property Managers when first joining our team. She soon realized her true calling, which was beach home sales and earned her Texas Real Estate Sales License shortly after and has been selling non-stop since. Selling beach homes isn't the only thing Glenda has found to be enriching. She also serves her community by sitting on the board of Economics Development Corporation of South Padre Island, a member of the South Padre Island MLS Committee, newly elected director of South Padre Island Board of Realtors 2022-2025 and the only permanent resident of South Padre Island who is a member of the Rio Grande Valley Organization of Women Executives.
      " Rudy Gonzalez Jr. is a name you probably feel like you've heard before and you probably have! Rudy was a renowned high school football coach across the Rio Grande Valley for 31 years ranging from Brownsville to La Joya before retiring. Rudy has been involved with real estate since 1994, owning rental properties and selling real estate part-time at Mason and Co. Realtors in Harlingen. Now focusing from South Padre Island to Harlingen, he's the perfect coach to have on your team to help you find your Island dream home.
        Karen Moore has held her real estate license since 1994 and began working with Troy Giles Realty in 1997. In 1985, Karen came to the Island from Dallas where she was self employed as a private investigator for many years. The Island pace brought out her more creative side and she began working to bring world famous artist Wyland to paint one of his marine murals. Efforts were successful with the assistance of the South Padre Island Community Foundation (SPICF) and over 100 volunteers. The South Padre Island Convention Centre is a popular attraction where Mural #53 can be viewed. Described as a "career volunteer," Karen has served with the SPICF since 1991 and is currently Vice-President. The history of the Island is an interest to Karen and she is also an advisory board member of the Historic Museum of South Padre Island. In the past, Karen has served on various boards to include the Property Listing Service (PLS), the Valley Proud Environmental Council, the Rio Grande Valley Music Festival, and the South Padre Island Beautification Committee (10 years), and was an advisory board member of TIFT, the largest fishing tournament in Texas. She wrote a regular newspaper column, "For Padre's Sake," supporting area beautification efforts. Karen's belief is: "It is much easier to welcome a new buyer or sell an existing property when your community is clean, beautiful, and has quality activities for families to enjoy. It just goes hand-in-hand!"    
             Arnie Crenin, originally from Chicago, Illinois, has prepared meals for US Presidents, governors, senators, as well as Kings, Queens, Princesses, and Sheiks. He's spent 25 years in the hospitality business working as a Chef, Executive Chef, and Corporate Chef, Director of Food and Beverage, and General Manager with Hilton, Hyatt, and the Kahler Corporation. Arnie also opened several well-known restaurants in hotels throughout the country. Currently, Arnie is President/CEO of Coastal Lifestyles, Inc., one of South Padre Island's Premier Luxury Rental Companies.
          Mundo Laguera became an Island resident in 1981 after vacationing on the Island since the 70's when his grandfather built a home on South Padre. After studying Marine Biology he became one of the first SCUBA Dive Masters and instructors on South Padre Island, worked in beach rentals, and began selling timeshares at Saida Royale's Beach and Tennis Club before he made the jump to real estate. Since then, he has helped many clients find their dream vacation homes, condos, and other properties on South Padre Island. He's represented investors from the US, Mexico, and overseas and participated in many of the beachfront lot sales from the '90s to the present day. Mundo has been selling real estate for 26 years and his experience and love for the Island are evident in the Island property he sells. 
       Zachary Magaro was born and raised in Houston Texas and attended the University of Houston. Zach considers South Padre Island his second home. With his Dad he sold his first property at the age of 13 and in 2011 Zachary decided to pursue entrepreneurship and went on to work for his family business doing sales and project management in the luxury custom home market while building and remodeling projects of his own. With his experience in the building field he has built a broad range of clientele and experience over the last 10 years. Zachary learned to provide the service and needs of his customers in all types of markets in both the commercial and residential industries. Ready to pursue his lifetime passion for real estate, Zachary moved to the RGV full-time and began his journey with Troy Giles Realty.
        Looking to the future, Troy Giles Realty is expertly equipped to be a big part of the growth on South Padre Island, which will naturally include the development of the north portion of the Island. There are miles of beautiful beachfront property available for developers, investors, and families to make their mark, and TGR will be the go-to office to guide them in the right direction!